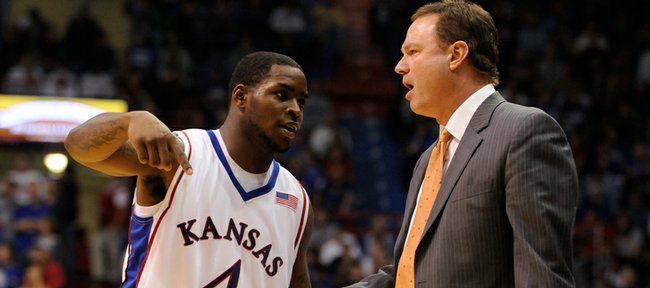 Kansas University guard Sherron Collins won't go so far as to say coach Bill Self has done a better job this season than a year ago.
"He led us to the national championship last year. It's hard to do any better than that," Collins said.
Yet Self on Sunday was accorded a pair of honors that escaped him during KU's 37-3 national title campaign.
Both the Associated Press and Big 12 coaches named Self their 2008-09 Big 12 Coach of the Year for leading KU to a fifth-straight regular-season league title despite losing all five starters — and six of the team's top seven scorers — from a year ago.
"Coach definitely did a great job. He got the young fellas to buy in, and we were able to win the league again," Collins added.
The Jayhawks, who tied 2008 Big 12 Coach of the Year Rick Barnes' Texas Longhorns for the regular-season title in 2007-08, on Saturday wrapped up the undisputed league title by beating Texas, 83-73.
KU improved to 14-2 in league play — a game better than last year's 13-3 mark. Oklahoma placed second and Missouri third in the standings at 13-3 and 12-4 respectively.
"Any award — be it coach, player, rookie or whatever — is a reflection of your team and what it has accomplished," said Self, who received 12 votes from the AP's media panel to Missouri coach Mike Anderson's six votes.
"Those things (coach honors) are nice, but I'm never hung up on them. They can't happen unless you have good players. I care a lot more about winning a championship as a group than any individual award," Self added.
Self, who has amassed a 167-38 record in six seasons at KU and is 374-143 in his 16th season overall as a head coach, also was the AP and coaches' Big 12 Coach of the Year in 2005-06.
"I think coach Self is a great coach. He really knows a lot of aspects of the game, whether it's the very end of the game when it comes down to two possessions with 45 seconds left or the very beginning of the game — who to play and what to play," KU sophomore center Cole Aldrich said.
He and Collins on Sunday were named first-team all-Big 12 by both the AP and coaches groups.
"Not too many coaches can recruit like he does. He gets great guys to come here," Aldrich said. "I can't think of a better coach."
Self has led KU to five league titles and one runner-up finish in six seasons.
Before that, his University of Illinois teams placed first in the Big Ten twice and second once. And before that, he led Tulsa to two straight Missouri Valley crowns, meaning he has won nine league crowns with two seconds in the past 11 years.
"It is crazy," Self said of the run of success. "We've been really fortunate. We've had good players everywhere we've been. I think playing at Kansas breeds that type of winning as much as anything because in players' minds, there's a standard or pressure for them to play to a championship-type level that's good for any team.
"This is what our guys thought they could do. They bought into that. Coaches bought into that. It came true, but after getting hammered at Michigan State (75-62 on Jan. 10) and being 11-4 in nonconference, I never thought this team could experience this type of success."
Now the Jayhawks, who Self said are guaranteed a "good" season, enter the postseason. KU (25-6) will meet either Baylor or Nebraska in a Big 12 tournament quarterfinal contest at 11:30 a.m. Thursday at Oklahoma City's Ford Center.
"We were taught a valuable lesson in Lubbock," Self said of Wednesday's 19-point loss at Texas Tech. "We didn't have our edge. If we don't have our edge, we're not that good. Our team is fun to play and coach when we have that edge. I told the guys, 'In order to make it a great year and special year, you have to play well from this point forward.'"
More like this story on KUsports.com