More coverage
Photo Gallery
The career of Bob Frederick, in pictures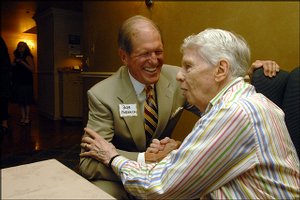 KUsports.com looks back at the career of former athletic director Bob Frederick via the pictures in the KUsports.com archive.
In mourning the loss of a mutual friend, Roy Williams and I shared some memories of Bob Frederick on Friday night.
North Carolina's basketball coach recalled fondly, that, during his 15-year stint in charge of Kansas University's storied hoops program, he would work out with fitness-nut Frederick regularly.
"In the old days, we'd really run," Williams, the man Frederick hired to replace Larry Brown in 1988, said. "Then we jogged. Then we jogged and walked. Then basically we just walked.
"Bob was going to walk with me the morning of the national championship game," Williams added of his Tar Heels' 89-72 victory over Michigan State last April 6 in Detroit.
"We missed each other on the time."
I sensed some regret that Williams — and one of his best buddies — were not able to take a brisk stroll and visit in the hours leading up to college basketball's biggest game.
Roy probably would have tossed some game-plan X's and O's Frederick's way, considering Bob had considerable hoops coaching experience himself — at Lawrence High, Russell High, Rich Central (Illinois) High, Coffeyville Community College, as well as Brigham Young, Stanford and KU.
The two were able to talk after the game, however, just as they did after UNC's 75-70 NCAA title victory over Illinois on April 4, 2005, in St. Louis.
"Bob came up to our suite and to our room and joined a lot of other friends," Williams said of his first NCAA title celebration. "In '09 he was there and Brad was there," he added of former Lawrence High and UNC player Brad Frederick, who (time flies, doesn't it?) has completed his 10th season as assistant coach at Vanderbilt.
As far as the memory I relayed to Roy of Frederick, who died Friday at age 69 ...
"I covered Bob Frederick when he was basketball coach at Lawrence High. Not many people know he coached at Lawrence High," I told Williams.
Roy laughed, then concluded the conversation by acknowledging he'd definitely be back for Bob's memorial service, set for 1 p.m. Wednesday in KU's Lied Center.
Like I told Williams, when I think of Frederick, I do not think of the KU athletic director I covered for 14 years, but envision a guy in a white smock erasing chalk off the blackboard in an LHS classroom, then feeding me quotes about the Lions' next basketball foe.
Frederick truly loved teaching and it's fitting his career ended with him back in the classroom in the School of Education at KU.
I'm not the only media member who loved Freddy.
Many at the Journal-World knew him, including KUSports.com online editor Jesse Newell, who fielded a phone call from Freddy on May 28.
Bob wanted to make sure we had heard that former KU hoops assistant coach Sam Miranda had died.
"Bob Frederick was one of the nicest guys I ever covered in more than 30 years in this job," said Doug Tucker of the Associated Press. "Of the thousands of people I've interviewed, there are only four who have ever asked me about how the AP works and how the media works."
The four are ... Frederick, Hal McRae, Ewing Kauffman and ?
"I can't remember. It was a player, though," said Tucker, unable to think clearly Friday as he dealt with news of Frederick's death.
Frederick attended the retirement party for much-beloved Topeka sports writer Pete Goering and was also on hand to pay his respects at Pete's funeral service last February.
You can bet many media members will be at the Lied Center Wednesday to celebrate Bob's life.
As a final tribute to Bob, I'd like to share one of his quotes and one of his wife, Margey. They were given to me after Bob stepped down as KU athletic director in 2001.
"I feel like ... I think it was Stan Musial when he retired. He was asked for his biggest highlight and he said just putting on his pants and cleats and playing every day," Bob Frederick said. "Just the opportunity to work with young people. That's what means the most to me."
And Margey, noting the outpouring of support for her husband ...
"It's incredible the amount of people across the country who have called — the floral deliveries we've received," Margey said in 2001. "Bob is so well-liked. At the weddings we've attended, at Showtime (LHS musical production) people come up to us, even people who do not know Bob.
"This is one of the reasons we chose to spend the rest of our lives in Lawrence," she added. "It's such a supportive caring community, where our friends are."
Those friends — in coaching, in college administration, in academia and in the media — from Lawrence and around the country will be out in full force to support Margey, sons Brian, Brad, Mark and Christopher, on Wednesday.
See you all at the Lied Center.
More like this story on KUsports.com