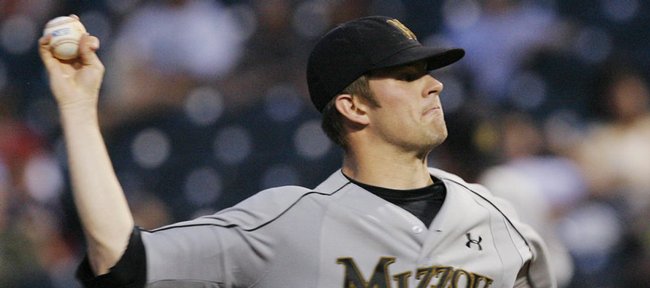 Kansas City, Mo. — With the 12th overall pick in the baseball draft Tuesday night, Kansas City took pitcher Aaron Crow, who grew up in Kansas, played for Missouri and loves the Royals.
"I've been a Royals fan my whole life," the 6-foot-3 righthander told The Associated Press in a telephone interview from his parents' home in Wakarusa, Kan. "I'm really excited."
Crow was the No. 9 selection in the first round last year by Washington but turned down the club's final offer and did not sign. The Royals said he's eager to get on with a professional career that has looked extremely promising going back to his last season at Missouri when his hard slider and overpowering fastball led to a 13-0 record.
"I spent some time with Aaron this year when he was in Arizona working out," said J.J. Picollo, the Royals director of scouting. "Aaron expressed to me the desire to get out and play. He understands what happened last year was a business decision. But I feel like he's ready to go."
Crow, however, seemed a bit more guarded.
"I'm excited to be playing again," he said. "But we'll see how all that stuff works out. I'm ready to get out there."
Crow played for Fort Worth, Texas, in an independent league this year and had a 1.06 ERA and 17 strikeouts in 17 innings. He got the news at his parents' home in Wakarusa, near Topeka.
"I don't think it could have worked out much better," said Aaron's father, Kevin Crow, who works for the state of Kansas. "We're all Royals fans."
Crow's senior season at Missouri was one of the best the Tigers ever had. He was the Big 12 pitcher of the year and a finalist for the Golden Spikes Award given to the top college baseball player after going 13-0 with a 2.35 ERA in 15 starts.
The Royals said they were not worried that sitting out a year would hamper Crow's development.
"I don't think we can worry too much about what happened last year," said general manager Dayton Moore. "We have to evaluate where our minor league system is and where our strengths and weaknesses are. Going into this draft, we felt like we needed to add advanced pitching, and Aaron fits that bill. Really, it's what we were looking for."
The Royals have experience with one-time holdouts. In 2006 they made righthander Luke Hochevar the overall No. 1 pick after he had refused to sign the year before with the Los Angeles Dodgers. Hochevar, who also pitched for Fort Worth while waiting for the draft to come back around, has had a slow start to his major league career and even started this season in the minors.
"Losing some developmental time is a question we have to answer," Moore said. "But I don't think it's going to impact Aaron at all as far as how quickly he can move.
"We'll be able to make up for some time. We'll help him make up for some lost innings but we anticipate he'll be OK and on track by the end of this calendar year."
Picollo indicated Crow would probably start in the high minors, perhaps Double-A and could be in the big leagues sooner than most college pitchers. But first they have to sign him.
"Obviously, there's a process that will have to unfold, as they all do," Moore said. "None of these negotiations are ever simple. But we'll attack it the way we always do with professionalism and class. And at the end of the day, we expect to get him signed."
The fact he's a local kid whose family has made trips to Kansas City to see the Royals is a plus, Moore said.
"Everything being equal, absolutely we would rather give the advantage to somebody who has a passion for the Kansas City Royals, a local flavor. But it's certainly not what leads us to the player. The talent is what you recognize and what you focus on and that was the case here."
Even though he's a pitcher, Crow said his favorite Royals players while growing up were outfielders Johnny Damon and Carlos Beltran and first baseman Mike Sweeney.
"I always thought I could hit when I was little," he said with a laugh.
The Royals didn't pick in the second round. They took high school catcher Wil Myers from North Carolina in the third round.
Myers, the 91st overall pick, played at Wesleyan Christian Academy in High Point, N.C. The 6-3, 185-pounder hit 13 home runs in his first 18 games this year.
Myers helped his team win the 2008 North Carolina 3-A State Championship.
A native of Thomasville, N.C., he has signed a letter of intent to play at the University of South Carolina.
More like this story on KUsports.com