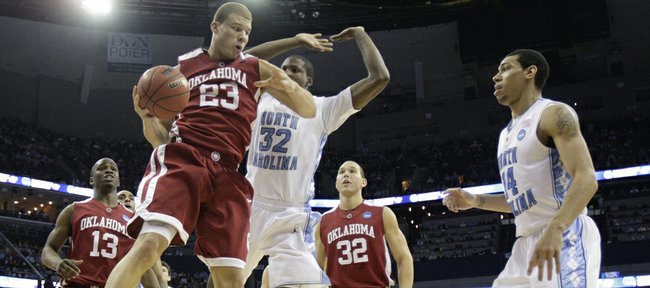 Los Angeles — Blake Griffin showed off the high-flying dunks that helped him become college player of the year in a very public pre-draft workout Saturday for the Los Angeles Clippers.
But that wasn't what most impressed coach Mike Dunleavy.
Griffin's handling three basketballs as part of a dribbling drill, his final trick before finishing the hour-long session, was what got the attention of his possible future boss.
"The last part was something you probably don't see too often from a 6-10 guy, doing two ball and three ball ballhandling drills. I thought we'd save that part for last," Dunleavy said.
Well, it was Griffin's idea.
"I don't think he believed me at first, but I hope he does now," said Griffin.
The Clippers, winners of the top pick in the draft lottery, are hoping Griffin can help change the team's fortunes. Whether that happens by selecting the Oklahoma star or using him as trade bait will be unveiled on draft day.
Regardless, they entertained Griffin — and over 100 season ticket holders and media members — at their training facility to drum up interest in their top pick.
"It's unusual for us to open up a workout for a player, but in this case we thought it was appropriate," Dunleavy said.
"We wanted the fans and sponsors to see the potential player we might take so we thought that was important."
Los Angeles previously announced Griffin would be their top selection. But Dunleavy wouldn't solidify that sentiment again, only throwing out hints on what an addition like Griffin would mean to any team that acquired him.
"You can never say never about anything, obviously. Obviously if the word LeBron was spoken by anybody, somebody's door would open, clearly. There are a few guys in this league that wouldn't get moved. Most of the times that you're in the case of a pick like this, 99.9 percent of the time you keep it."
More like this story on KUsports.com