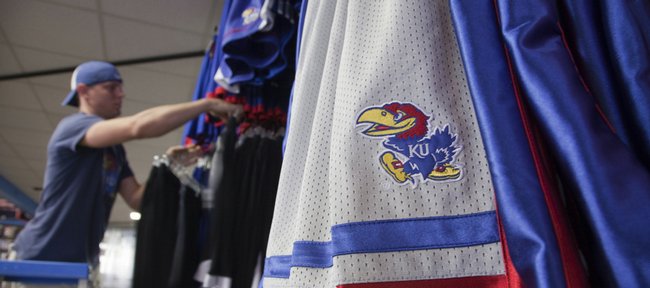 Winning a national championship in basketball doesn't just mean happy fans. It's big business, too.
Sales of Kansas University merchandise topped $47.3 million in 2008 after the men's basketball team defeated Memphis to take the national title.
David Mucci, director of the KU Memorial Unions, decided to do some poking around recently, and pulled out some old records from 1988, the last time KU won the championship.
He said it's difficult to piece together, but he was able to come up with an "informed guesstimate" of the total sales of KU merchandise in that year.
The result?
It amounted to about $1.5 million. Meaning people spent more than 30 times as much on licensed stuff — all those T-shirts, hats and other paraphernalia — in 2008 than they did in 1988.
He has some guesses for the reasoning behind that. Twenty years ago, he said, the bookstores were pretty much the only game in town for licensed gear.
"For me, the point is that licensing in general has just become a much more significant part of our culture," Mucci said. "Now, it seems like everybody and his brother are selling and buying."
And it's nice that KU gets to see some revenue out of it, he said.
KU only gets to see a small portion of that $47.3 million, however — the 2008 sales translate to about $1.2 million for Kansas Athletics, and about $752,000 for KU. The school gets a percentage of the wholesale cost for every item sold, said Jim Marchiony, associate athletic director.
In addition, the school gets the benefit of its logo being worn by people all over the country, Marchiony said.
"The more T-shirts and products that are out there with our name, the more exposure they receive," he said. "That's good for the university."
Kansas Athletics placed the extra cash into its general operating budget, Marchiony said, where it will help fund every aspect of the athletic department's operations — from student-athlete scholarships to coaches' salaries.
KU gave $441,000 to student scholarships, $289,000 to its unions for student programming and $22,000 to the KU Medical Center to support its bookstores, said Lynn Bretz, a university spokeswoman.
The championship was also a boon for local retailers in the business of peddling KU wares.
Brian Hoffman, owner of Sports Dome, 1000 Mass., had 300 T-shirts ready to sell the night of the championship. He said he could have probably sold 10,000 if he had them ready.
"It was like a gold rush," he said.
People came into the store and left with armloads of shirts and hats — he said customers would average between five and 10 items of apparel per sale in the month after KU won the title.
It wasn't all roses in 2008, Hoffman said — the football season wasn't quite as thrilling as in 2007, and people didn't want to buy a new KU shirt in a down economy.
Hoffman said he thought part of the excitement at the end of basketball season was because it had been so long since the team had won a national title. He said it would probably be best for merchandise sales if the team were to win every three or four years.
"I'll take another one this year, though," he was quick to add.