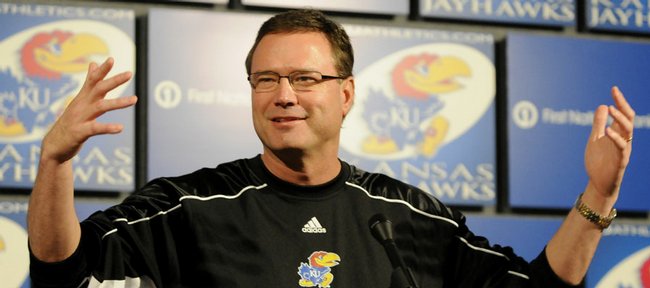 Tourists are putting their cell-phone cameras to good use this week in Las Vegas.
"It's coaches everywhere," said Kansas City Pump N Run basketball coach L.J. Goolsby, who Tuesday through today — as he has for the last 10 years — has brought three local teams to the desert to play in the adidas Super 64 AAU Tournament.
It's one of three late-July tournaments in Glitter City that attract college coaches from everywhere.
"It's fun. Obviously you come to a tournament like this and the kids get a lot of exposure," Goolsby said.
He mentioned the likes of Kansas University's Bill Self, as well as Tubby Smith, Mike Krzyzewski, Ben Howland, Billy Donovan, Jeff Capel, Anthony Grant and Sean Miller as some of those college coaches scouting his teams, which are entered in the 15, 16 and 17 age-group divisions.
The Pump N Run 17s, which opened the tourney 2-2, have a pair of major-college prospects in Trevor Releford, a 5-foot-11 senior from Roeland Park's Bishop Miege, and Ricky Kreklow, a 6-6 senior from Rock Bridge High in Columbia, Mo.
Releford, the brother of KU sophomore Travis Releford, has received scholarship offers from Oklahoma, Alabama, Tennessee, Florida and Arizona, with UCLA and Minnesota also recruiting him. KU has shown some interest.
"He's played extremely well in the spring and summer," Goolsby said.
Of KU's interest, Goolsby said: "Coach (Bill) Self is recruiting him. I would not say overly recruiting him. They are interested in seeing how things go."
Kreklow has received offers from Stanford and Virginia.
Four Lawrence players are competing for the Pump N Run 15s and 16s in Vegas this week. Off to a 2-3 start, the 15-year-old team boasts Tyler Self, the 5-foot-11 son of KU coach Bill Self, as well as K.J. Pritchard, the 6-2 son of former KU guard Kevin Pritchard. Another standout is Anthony Buffalomeat, a 6-1 guard, who, like Pritchard, will attend Lawrence High. Self will attend Free State, where Pump N Run 16s player Evan Manning, the 6-2 son of KU assistant coach Danny Manning, will be a junior.
"All have done well. The biggest thing to me is seeing the improvement they've made during the summer and the opportunity to play in front of so many coaches," Goolsby said of the Lawrence connection. "At the end of the day if they work hard they'll have some opportunities."
Coaches Self and Manning, by the way, can speak with their children during and after their games, even though they are recruitable athletes during an evaluation period. The NCAA does not force coaches who are parents to stay away.
"They are parents, not coaches," Goolsby said, adding, "I can see them (coaches) and give a head nod. I can't talk to coaches until after the events are over."
The Pump N Run 15s, who also have DeSoto guard Mason Wedel on the roster, competed against one of the top players in the Class of 2012 this week.
Shabazz Muhammad, a 6-4 sophomore from Las Vegas' Bishop Gorman High, scored 15 points in San Diego Dream Vision's 67-56 victory over KC. Earlier that day, coaches in the stands watching Muhammad explode for 29 points in a loss to Atlanta, included Self, Roy Williams, Rick Barnes, Capel and Howland.
Muhammad's sister, Asia, is an 18-year-old pro tennis player. Shabazz's dad, Ron Holmes, is the seventh-leading all-time scorer at USC.
The Pump N Run 16s, off to a 4-1 start, have defeated an Indiana Elite team that features future Indiana guard Matt Carlino, as well as 7-footer Marshall Plumlee, the brother of Duke's Mason Plumlee and 6-9 Cody Zeller, the brother of North Carolina's Tyler Zeller and former Notre Dame player Luke Zeller.
Along with Evan Manning, the Pump N Run 16s roster includes Christian Kirk, 6-7, St. Charles West; A.J. Spencer, 6-4, SM Northwest; Evan Wessel, 6-4, Wichita Heights; Brodie Wingert, 6-4, Springfield (Mo.) Kickapoo and Javon Lyle, 6-2, KC O'Hara.
"They really play well together," Goolsby said of the 16s, noting in their off time the players have been either hanging out at the hotel pool "or in their rooms. It was 102 degrees in Las Vegas at 10 o'clock last night," Goolsby said of the steamy weather.
• KU's coaches have been busy recruiting several top players in Vegas, according to Rivals.com.
They include ...
• Cory Joseph, a 6-3 senior from Findlay Prep High in Henderson, Nev. Playing for Grassroots Canada, the Toronto native scored 19 points against the D-One All-Stars, with KU's Danny Manning in the stands. He also had 35 points versus the Atlanta Celtics. Joseph is considering KU, UNLV, Arizona, Louisville, Ohio State, Marquette and others. Tristan Thompson, a 6-9 future Texas Longhorn, is one of his AAU teammates, also originally from Canada.
• Josh Selby, 6-1 from Lake Clifton High in Baltimore, who has decommitted from Tennessee, He has KU, Kentucky, UConn, Ohio State and others on his new list.
• Joe Jackson, 5-11 senior from White Station High in Memphis. He's considering KU, Memphis, Ohio State, Tennessee, Arkansas and others.
• Ray McCallum, 6-1 senior from Detroit Country Day. He is considering KU, Florida, Oklahoma, Michigan, Michigan State, Notre Dame and others. His dad is head coach at Detroit.
• Terrence Jones, 6-8 senior from former KU players Aaron Miles and Mike Lee's Portland (Ore.) Jefferson High. He told Rivals.com that Oklahoma, UConn, Washington, UCLA and USC were showing the most interest.
• LaBryan Nash, 6-7 junior wing from Dallas' Lincoln High. He'll have many schools from the Big 12 on his list, including Texas.
• Quincy Miller, 6-8 junior from Quality Education Academy in Winston-Salem, N.C. He has a long list of schools including most of the ACC, Baylor and South Carolina.
• Anthony Wroten, 6-4 junior from Garfield High in Seattle. He's looking at KU, Washington, Georgia Tech, Louisville, Missouri and others.
• Josh Smith, 6-10 senior from Kentwood High in Covington, Wash. Kentucky, Tennessee, Washington and others are after Smith.
• Isaiah "Ike" Austin, 6-11 sophomore from Mansfield (Texas) High. He will be pursued by many Big 12 schools.
• Damien Leonard, 6-3, junior from Mann High in Greenville, S.C.
Royce Woolridge, 6-3 senior from Phoenix Sunnyslope High, has already committed to KU. Playing for Arizona Magic in the Star Vision Sports Center Stage Tournament also in Vegas, the combo guard topped the 20-point mark in a win over New Mexico Force, had 19 in a win over BTI-Double Pump and 18 in a victory over the Dallas Seawolves. He's likely to make a jump in the rankings after this summer. He's Rivals.com's No. 93-rated player.
More like this story on KUsports.com