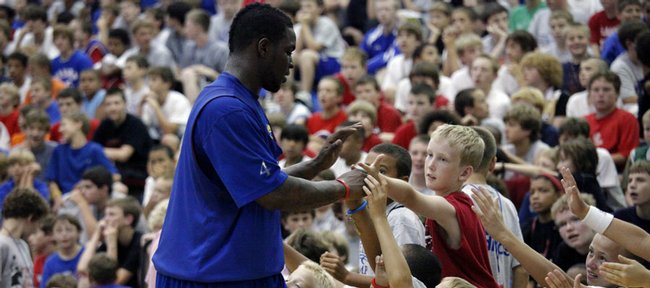 Sherron Collins desperately wanted to represent his country this month at the World University Games in Belgrade, Serbia.
A lock to make the team, Kansas University's senior basketball point guard on June 15 informed USA Basketball officials he wouldn't be able to fulfill a promise to attend tryouts in Colorado Springs.
Why?
For personal reasons.
"It was a problem I was going through, some family issues. There was too much going on in my head. I was focused on my family," Collins said Thursday in discussing the problem publicly for the first time.
"My mom had lumps in her chest that they (doctors) were saying most likely was cancer," Collins said of Stacey Harris, who lives in Chicago.
"I was really sad. I lost my grandmother on my father's side a couple years back. Stomach cancer ... she never drank or smoked, but in two weeks cancer just ate her up.
"I was thinking about that and didn't want my mother to go through that."
Collins, who has raced between Lawrence and Chicago "five or six times" to check on his mom the past several weeks, last week learned that Harris figures to be OK.
The lumps are not cancerous. Medication has been prescribed, Collins said, with no surgery on the horizon.
"It was last week actually," Collins said of the moment he received the good news. "I was working out (at KU) and my mom couldn't get in contact with me. She called coach (Bill) Self to let me know immediately.
"When coach told me, I felt a lot of pressure relieved from my shoulders. It wasn't a celebration. It was more a relief. She's a happy little lady who wasn't herself this summer.
"I've been working hard since I got the news. I've been able to finally focus. I'm relieved."
Not wanting to make excuses, Collins acknowledged he was in no mood to work out during the days his mom was not feeling well.
Stress-related inactivity may be one reason he checked in at 5-foot-111⁄2 — and a shocking 228 pounds — at the Deron Williams Skills Academy on June 24 in Dallas.
"All I could do was pray, man," Collins said of his free time when mom was struggling.
"I'm not one of those guys who can sit around and not do anything because of my genetics. I've always got to be active. I was back home and had a lot of stuff on my mind.
"Coach knew I was overweight, but knew I had some things on my mind. He never said anything negative. He was supportive. He told me if I need to be home, go home.
"One thing about coach Self and all the coaches here, they really care about your family and what is going on in your family. Coach knows me. He knows I'll be ready when the season starts."
To that end, Collins, who is working out twice a day, has shed 10 pounds since the Skills Academy weigh-in.
"I don't know if you would call it my personal 'Boot Camp,''' Collins said with a smile, not looking forward to his final Bill Self Boot Camp in September.
"I'm doing a lot of cardio, elliptical stuff, running in place, working out an hour and a half twice a day."
He's also working on his game, evidenced by a successful trip to the Deron Williams camp where he played 3-on-3 and 4-on-4 each evening with some of the top perimeter players in the country.
"It was fun. It was different because there were no bigs," Collins said, noting guards were able to take it to the basket without fear of rejection.
"It was pretty competitive. Deron (Utah Jazz) played in some of the games. He's tough. Everybody was tough," added Collins, who listed Michigan State's Kalin Lucas, South Carolina's Devon Downey and incoming Texas freshman Avery Bradley as some of the finest playmakers there.
"Bradley caught my eye a little bit. He's athletic, strong, quick," Collins said of the 6-2, 180-pounder, who is Rivals.com's No. 4 player in the Recruiting Class of 2009.
Collins, as well as Cole Aldrich and possibly the Morris twins, next will attend the Adidas Nations Experience Aug. 4-8 in Dallas.
Collins also plans to work out with former KU center Sasha Kaun, NBA player Chauncey Billups and other pros at the end of this month in Las Vegas.
He said his goal is to do everything it takes to have a stellar senior season.
Collins, who has scored 1,330 points, good for No. 25 on the school's all-time list, needs 492 points this season to pass Darnell Valentine as the top-scoring guard in school annals. Valentine ranks fifth overall at 1,821 points.
"I knew I'd be close to the top five in scoring. I'm not worried about that. I don't want to think about doing this and that, personally," Collins said. "If I average 10 points and we win big, that's what I want.
"It pushes me a lot," he acknowledged of winning his second national title in three years. "To be able to win one was special. If we're able to win this one and I'm able to have a bigger part in it, it'd be really special."
A dream would be to win another NCAA title, which certainly would assure his No. 4 of someday hanging in the Allen Fieldhouse rafters, then get picked in the first round of the 2010 NBA Draft.
Collins likely would have been a late-first-round, more likely a second-round, selection had he put his name in the 2009 draft.
"I watched it. It was a crazy draft. There were a lot of guards taken, one of the best drafts for guards," Collins said.
"I think if I declared I could have been picked in the first round. I had a great year, and I think I could have proven in workouts that I was a first-round pick. I just don't think it was the right time."
Self certainly is happy to have Collins back for a final go-round.
He calls him the "best guard in the country."
"We've coached some really good guards, but you have not seen a guard in recent times that impacts a college game more than Sherron does every possession," said Self, noting that Collins has "been great" in his workouts since the alarming day he weighed in at 228. His normal playing weight is 205.
"When Sherron is right, there's nobody that can play with him. He and Cole will have a chance to be All-Americans. They both want to be part of a legacy that brings home two national championships."
Collins not only pleased his coach and teammates, but another special person by deciding to stay in college.
That's Harris, who said at KU's postseason awards banquet she always dreamed of watching her son's Senior Day and graduation ceremony.
Both should be on the calendar this season, as Collins, an African American Studies major, says he's on track to graduate.
Mom won't miss any of the action.
She'll be living in Lawrence during the 2009-10 season.
"She should be here by Late Night," Collins said of the Oct. 16 extravaganza. "I'm really happy she's going to see so many games this year. It's going to be great. I'll be able to get even closer to her."
And ... "I won't have to do laundry any more," Collins said with a smile. "I get tired of seeing Brady (Morningstar, roommate) taking his laundry over to his mom. Now I get to take laundry to my mom, too."
In wrapping up the conversation about his mom Thursday morning, he answered — without hesitation — if he regrets not playing for Team USA, considering Stacey has been given a clean bill of health.
"Not really," Collins stated, "because if I did leave the country and she ended up having it (cancer), I'd be more worried and not there for her. Everybody knows I wanted to go. Coach knows I wanted to go. I couldn't go. My family comes first."
More like this story on KUsports.com