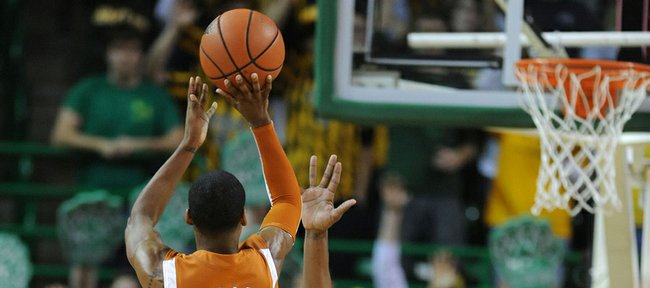 No. 11 Texas 78, Baylor 72
Waco, Texas — Texas coach Rick Barnes was talking about how hard his team fought, expounding on all the things the 11th-ranked Longhorns had to do to win.
Still, Barnes really shouldn't have been all that surprised with the outcome.
In his 11 seasons, the Longhorns have never lost to Baylor.
Texas made it 23 consecutive victories in the series Tuesday night, when A.J. Abrams scored 19 points while matching the Big 12 career record for three-pointers in a 78-72 victory over the Bears.
"We knew both teams would dig in and play as hard as we can play," Barnes said. "Defensively, I thought we were really good. Offensively, we go through spurts where we struggle. ... This was as complete a win as we've had as a team."
And yet just another victory for the Longhorns (15-4, 4-1 Big 12) against the rival located less than 100 miles north on Interstate 35. Baylor last won in the series in 1998.
"Like all Baylor fans, we're tired of being on the short end," said coach Scott Drew, now 0-12 against the Longhorns.
Abrams matched the Big 12 record with his 338th career three-pointer, his third of the game coming 141⁄2 minutes into the game. He didn't make another one, leaving him tied with Jeff Boschee, who played at Kansas from 1999-2002.
Colorado 55, Iowa State 49
Boulder, Colo. — Cory Higgins scored 19 points to lead Colorado. Nate Tomlinson and Dwight Thorne had nine points each for the Buffaloes (9-10, 1-4 Big 12), who ended a four game losing streak.
Craig Brackins led Iowa State (12-8, 1-4) with 24 points and nine rebounds. The Cyclones have dropped the last four meetings with Colorado in Boulder.
Brackins gave Iowa State its last lead of the game, 46-45, with a jumper with 4:01 left. Higgins sank two free throws and Thorne had a three-pointer as Colorado closed the game with a 10-3 run.
Diante Garrett's layup with a second left after stealing the ball put Iowa State ahead 28-26 at the half.
More like this story on KUsports.com