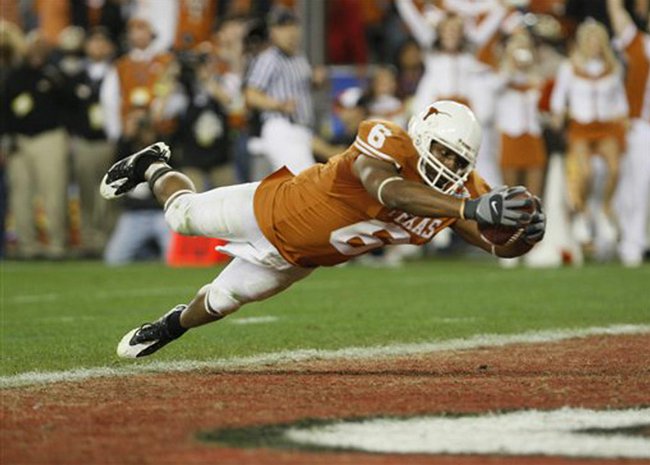 Glendale, Ariz. — Colt McCoy got the best of Ohio State this time.
The Texas quarterback was just a wide-eyed freshman playing his second college game in 2006 when No. 1 Ohio State and No. 2 Texas met in Austin and the Buckeyes waltzed out of town with a 24-7 victory that was a baptism of big hits.
That was then.
The savvy McCoy of 2009, the runner-up for the Heisman Trophy, is no comparison to the player of three years ago.
Dusting off the dirt after several big hits — and two illegal blows to the head — McCoy passed for 414 yards and two touchdowns, the second to Quan Cosby with 16 seconds to play, to carry third-ranked Texas to a 24-21 win over No. 10 Ohio State in the Fiesta Bowl on Monday night.
McCoy finished with a school-record 41 completions and ran for Texas' first touchdown in the Longhorns' fifth straight bowl win.
"We are going to fight to the end," McCoy said. "We proved that tonight."
Three years ago, McCoy gnashed his teeth as he walked off the field and the Buckeyes celebrated in his home stadium. This time, he was high-fiving teammates and fans and hugging his coaches as a broad smile beamed across his face.
His gritty performance could make him the clear favorite to win the Heisman next season if 2008 winner Sam Bradford of Oklahoma decides to leave for the NFL.
"He played as well as any quarterback can possibly play, especially the last drive," Texas coach Mack Brown. "I mean, to me, that's a Heisman-type drive."
McCoy was at his best in the third quarter and on the final drive.
With Texas (12-1) trailing 6-3, he scored the Longhorns' first touchdown on a 14-yard run when he spun around Buckeyes cornerback Malcolm Jenkins. The defender had ducked his head and must have been surprised when McCoy easily danced around him to get into the end zone.
Texas' second TD came when McCoy rolled to his right, spotted Jordan Shipley in the end zone and fired just as Cosby, who was running the other way, stepped in for the grab and the score.
The Buckeyes battered McCoy all game, sacking him twice and knocking him down numerous other times. Twice in the first half he took shots to the head by defensive lineman Thaddeus Gibson. On one sack, Gibson wrapped up McCoy with both arms, picked him up and slammed him down like a wet fish.
"He was very angry with me or something," McCoy said. "That was the biggest, best defense we've played this year. They were coming after me all night long. I'll be sore tomorrow."
By the second half, McCoy had found his rhythm and Texas was on a roll.
After Ohio State (10-3) took a 21-17 lead on Terrelle Pryor's touchdown catch late in the fourth, McCoy coolly drove the Longhorns to the winning touchdown.
Taking over at the Texas 22 with 1:58 to play, the Longhorns marched down the field in 11 plays with McCoy completing eight passes. None was bigger than a fourth-down toss to James Kirkendoll who got the first down by inches. The margin was so close that Ohio State challenged the spot of the ball because the Buckeyes believed they had stopped him short and won the game.
"We got a good spot," McCoy said.
After one more completion, Texas had 16 seconds left and maybe time for three more plays when McCoy fired a dart to Cosby across the middle. The receiver slipped a tackle and dived into the end zone without a Buckeye defender within 10 yards.
"That dive was 'No one is going to stop me from getting in this end zone,"' Cosby said.
More like this story on KUsports.com