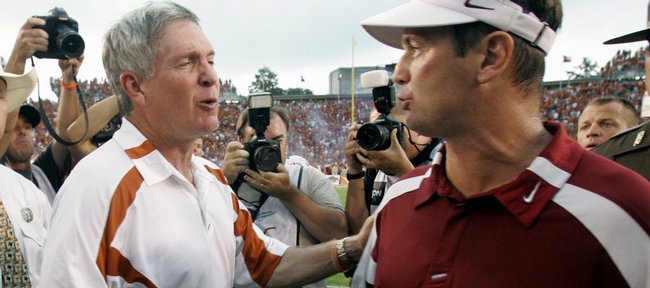 Glendale, Ariz. — Texas coach Mack Brown has a theory about bowl games.
"If the teams are fairly even, the team that wants to be there the most and has the edge and is more motivated usually wins," Brown said.
If third-ranked Texas had a choice, it would be in Miami preparing to face Florida for the BCS title. But the Longhorns still have plenty of motivation against No. 10 Ohio State in the Fiesta Bowl tonight.
Snubbed in their bid for a slot in the Bowl Championship Series title game, the Longhorns (11-1) will try to take their frustrations out on the Buckeyes (10-2), who have made their fifth bowl trip to Arizona since 2002.
"Really, what's going through our minds is, 'Let's just put on a show, basically,"' Texas defensive end Brian Orakpo said.
The Longhorns finished in a three-way tie atop the rugged Big 12 South and thought their 10-point victory over Oklahoma should have put them in the Big 12 title game. But Oklahoma was declared the division winner on a BCS standings tiebreaker, and the Sooners ripped Missouri in the Big 12 playoff to earn a trip to the national title game.
The Longhorns still have a shot at a national title, but it's slender.
Either Oklahoma or Florida will claim the BCS national title. But the 65 pollsters who vote in the Associated Press Top 25 are free to select the Longhorns No. 1.
Six AP voters have the Longhorns atop their ballots, and that number could swell if the top-ranked Gators lose and their 50 first-place votes go up for grabs. Some voters might choose Texas because it beat Oklahoma.
It's a long shot, but it's the only shot Texas has. The Longhorns will have no shot if they don't take care of the Buckeyes.
"I don't know what needs to happen," Texas tailback Chris Ogbonnaya said. "Right now, our focus is Ohio State and really that is all that matters. We can't talk about being in the national championship picture without having a victory against them."
The Buckeyes haven't been in the national title discussion since a 35-3 walloping at USC on Sept. 13.
But the Big Ten co-champs say they have plenty of motivation, and, like Texas, it springs from a bad experience in the BCS.
After absorbing lopsided losses to Florida and LSU in the last two BCS title games, the Buckeyes have grown tired of hearing that they are a product of a soft conference and don't belong among the national elite.
"It would be nice to win that big game," linebacker James Laurinaitis said. "We will be remembered about how this game comes out. It is just a real fact."
More like this story on KUsports.com