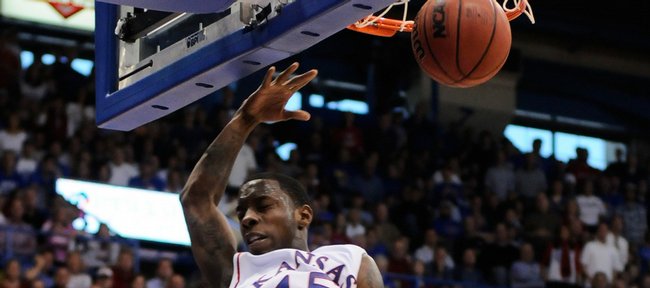 Jeanell Taylor jumped out of her lower-level Allen Fieldhouse bleacher seat Saturday as Kansas University's Brady Morningstar sprinted along the baseline and heaved a Todd Reesing-like bomb to her son, Tyshawn.
The 6-foot-3 freshman from Jersey City, N.J., stormed in for a mom-pleasing one-handed slam with 1:43 left in the Jayhawks' 92-85 nonconference basketball victory over Tennessee in Allen Fieldhouse.
"I was happy to see him dunk today. I always got to see him dunk in high school and never saw him dunk in college," said Jeanell Taylor, also caught by ESPN's cameras rejoicing after a one-handed breakaway flush at the 10:36 mark — this one off a two-handed inbounds pass from the same Morningstar.
Jeanell has been in town since Dec. 29 with Tyshawn's two sisters, his stepdad and cousin. The happy pack of Jersey City, N.J., natives is here for three games — KU's victory over Albany on Dec. 30, as well at the Tennessee game and Tuesday's 7 p.m. contest against Siena.
"This game was loud, exciting, interesting," Jeanell said. "It's been a great stay. I had to see a live game. I was tired of watching him on TV."
Tyshawn scored three points with an assist and a turnover in 19 minutes of a 79-43 victory over Albany. He scored 12 points off 6-of-11 shooting with three assists and a turnover in 23 foul-plagued minutes in the 92-85 victory over the No. 14-ranked Vols.
"The crowd was great. My gosh, it was so loud during warmups," Tyshawn Taylor said. "My mother, my family were here. It's the first time they've seen this kind of atmosphere."
The Jayhawks expended a lot of energy in building a 17-point lead, then hanging on against the athletic, fullcourt-pressing Vols.
"With their speed, quickness, pressure, it might have been the hardest college game I've played in," Taylor said. "We've lost a couple games I don't think we should have lost. We proved we are a good team and can compete with the best of them."
Taylor was happy to spend quality time with his family after Saturday's big victory.
"We've been chilling, going out to eat. My family loves it here. They think it's the perfect place for me," Tyshawn Taylor said.
Of course, Lawrence is a lot different from Jersey.
"It reminds me of Florida. It's much cleaner, quieter, not too busy," Jeanell said. "The whole environment about Kansas is a good environment. They've got a good team. They have an awesome coach."
She said seeing her son has been the highlight of the trip.
Others?
"We were downtown yesterday. We ate at the Buffalo Wing House (Buffalo Wild Wings). We've been shopping. We went to J.C. Penney's and got a lot of Jayhawk stuff, Kansas shirts and stuff."
Coincidentally, Cole Aldrich's mom, Kathleen, and dad, Walter, made the trip from Bloomington, Minn., to attend both the Albany and Tennessee games.
Aldrich scored 20 points and grabbed six rebounds versus Albany and scored 22 points off 10-of-14 shooting and grabbed 10 boards with six blocks against the Vols.
"My parents came to a few games last year. They've been to five or six," said Aldrich, whose parents drove back to Minnesota after Saturday's game. "You always want to play well no matter what. It's always fun to see your parents in the crowd, though."
lSiena at a glance: Siena, will take a 10-4 record into Tuesday's 7 p.m. game against the Jayhawks. Siena improved to 4-0 in Metro Atlantic Athletic Conference play by downing Saint Peter's, 65-52, Sunday. Starter Ryan Rossiter and captain Josh Duell, who averages 12.1 minutes a game, were sidelined because of the flu.
Three of Siena's losses came at the Old Spice Classic in Lake Buena Vista, Fla. The Saints fell to Tennessee, 78-64, Wichita State, 72-70, and Oklahoma State, 77-68. Siena also has lost at Pittsburgh, 79-66.
Siena returns five starters off last year's 23-11 team. The Saints clubbed Vanderbilt, 83-62, in a first-round NCAA Tournament game, before falling to Villanova, 84-72, in the second round.
lBrady battles flu: Morningstar's 12-point, six-assist, four rebound, 33-minute performance versus Tennessee was even more impressive since he's been flu-ridden.
"He missed Thursday's practice and was not himself Friday. He played really well against Tennessee," Self said.
More like this story on KUsports.com