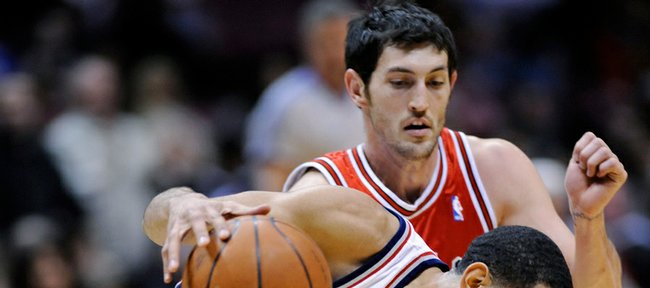 Kirk Hinrich, who won two Big 12 championships and played in two Final Fours at Kansas University before being tapped seventh overall in the 2003 NBA Draft, says the greatest moment of his storied hoops career will take place Sunday.
That's when his KU jersey No. 10 will be hung for eternity in the rafters of tradition-rich Allen Fieldhouse.
"I feel like for myself it's the ultimate honor," the 28-year-old Chicago Bulls point guard/shooting guard said Thursday, speaking via teleconference from Washington, D.C., where the Bulls meet the Wizards tonight.
"I don't know if there's a greater honor in basketball than to have your jersey hanging in the most historic basketball building in the world. It's an unbelievable honor," Hinrich added. "I feel Allen Fieldhouse is a very magical place, so rich in tradition. There have been so many great players to play there. It's just an unbelievable honor to have this happen."
So unbelievable that Hinrich said the word, "Wow" a handful of times in his 20-minute phone session with reporters — one that took place before the Bulls were to head to the White House for a meeting with President Obama, who hails from Illinois.
A reporter from Hinrich's home state of Iowa asked the Sioux City native if he ever thought he'd get to this point.
"It's a crazy cycle," Hinrich said. "To think back when I was in high school ...to have a chance to play at the University of Kansas was overwhelming. Understanding what it's all about and the tradition, the people who came before me and made everything possible by keeping the tradition alive ... now to have the opportunity to have my jersey up in the rafters is just overwhelming."
Hinrich will have several family members and friends in the stands Sunday, including former KU teammate and fellow Iowan Nick Collison. The jersey hanging ceremony will take place at halftime of the 1 p.m. KU-Missouri game.
"Coincidentally, he has an off day (with Bulls Sunday), which is good. But Kirk picked the Missouri game. He wanted to be here for that particular game," KU coach Bill Self said.
Hinrich admitted that choosing the KU-MU game was a no-brainer.
"Playing in that Missouri-Kansas rivalry for four years, I definitely understand how important it is," said Hinrich, who went 6-3 versus the Tigers from 1999-2003.
"Some of my most memorable games were against Missouri," added Hinrich. His 25 points and nine rebounds helped the Jayhawks to a 95-92 victory over the Tigers on March 3, 2002, in Columbia — a game that completed KU's perfect 16-0 run in the Big 12 Conference.
"I'm just excited to have the opportunity to be there for that game. I'm really looking forward to the ceremony, one, and two, to experience a game there again. It's been awhile. It's always special when it's Kansas against Missouri."
Hinrich is ninth in KU career scoring, fourth in assists, sixth in steals, third in most minutes played, third in three-pointers made, fifth in career free-throw percentage and 13th in career field goals made. He was a first-team All-Big 12 pick his junior and senior seasons and a third-team All-American his senior year. He was selected by the Bulls with the seventh overall pick in the 2003 NBA Draft.
"He deserves it," Self said Thursday. "There's really not a criteria other than the greatest players that play here deserve to be considered for that. Without question, he's one of the best to play here.
"We did put the minimum five-year waiting period on everybody because we think it'll mean more to the guy coming back if they had a chance to really think about what they accomplished as opposed to doing it right at the time they graduated or left school. I think it'll be great."
Future jersey retirements: Though no official announcement has been made, it's believed Wayne Simien will be the next Jayhawk to have his jersey hung. Simien last played at KU in 2004-05.
As far as players on KU's 2008 national title team, perhaps one or two will be honored down the line.
"You would say that some would deserve it. You could also say if some from that team deserve it, wouldn't you go to past teams? Our leading scorer averaged 12.8 points a game (Brandon Rush 13.3, Mario Chalmers, Darrell Arthur both 12.8). Statistically, it's not going to stack up," Self said. "I'd be very surprised if somebody from that team did not get their jersey hung up there, maybe multiple guys.
"You look up there and see the guys, you see Kirk, who was fabulous and the seventh pick of the draft and averaged 18 a game. The team last year wasn't a team built on individual statistics but built as a group, and guys left early (for NBA). I don't want to make any predictions on who or when because you guys will write about that for the next four years. There will be somebody I'm sure."