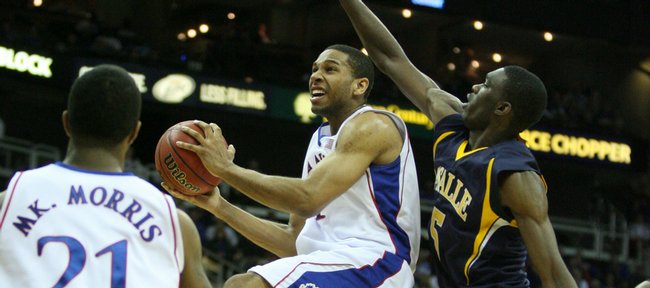 Kansas City, Mo. — If you didn't know it already, you found out for certain on Saturday afternoon.
Xavier Henry is the best all-around player on Kansas University's men's basketball team and arguably the best freshman to play in the Big 12 Conference since Kevin Durant at Texas a couple of years ago.
Henry, a self-effacing 6-foot-6 forward from Oklahoma City, added the punctuation mark against a La Salle team that wasn't as bad as the Jayhawks made it look during the 90-65 bashing at the Sprint Center.
Henry went into Saturday's game leading the Jayhawks in scoring, in three-point goals and in steals. Nothing changed Saturday except for one thing — the cat is officially out of the bag.
By exploding for a career-high 31 points while making 10-of-15 shots, including four of five from beyond the arc, Henry skyrocketed into national prominence.
Curiously, before the season, teammates Cole Aldrich and Sherron Collins were named the Big 12's preseason co-players of the year by league coaches, and Texas guard Avery Bradley was tapped as newcomer of the year.
Now it's not a reach to say that Henry, if he stays healthy, has a legitimate shot to earn the conference player of the year award AND newcomer-of-the-year honors.
I know one thing. Henry has put me in a bind.
You see, I've compiled an All-Southpaw Team culled from all the KU basketball players I've seen perform over the last four decades, and right now all five slots are full.
Up front are Raef LaFrentz and Dave Robisch. The wings are Ron Kellogg and Keith Langford, and the point guard is Rex Walters. (Walters wasn't really a point guard, but he could have played there if Adonis Jordan hadn't been a teammate).
That's a heckuva quintet of left-handed shooters. LaFrentz and Robisch are among the school's all-time leading scorers. Kellogg was the best outside shooter I ever saw in a KU uniform, and Langford ranks sixth on KU's all-time scoring list.
Walters doesn't rank as high in scoring because he played his first two years at Northwestern, but the slick lefty could nail the three, and he possessed an uncanny knack of scooting through traffic to reach the basket.
Now along comes the left-handed Henry, and, even though he'll probably play just one year for the Jayhawks, he may wind up deserving a spot anyway. Or I could, I guess, make him the sixth man.
Anyway, I watched Henry's dad play for the Jayhawks back in the early '80s, and Carl Henry's game, while good, pales compared to his youngest son.
The elder Henry was two inches shorter, not as chiseled and rarely shot from beyond 17 feet. Perhaps Henry would have taken more long-range shots if the three-point goal had been in effect, but he was born three years too soon, so we'll never know.
Carl Henry's forte was the offensive rebound. His ability to come up with a loose ball inside and score "garbage" goals was sometimes jaw-dropping.
But Carl Henry played mostly inside, and Xavier Henry doesn't, as evidenced by the fact he has only eight offensive rebounds in the Jayhawks' nine games.
But if Xavier Henry had to play inside, I'm sure he could. He's that good.
More like this story on KUsports.com