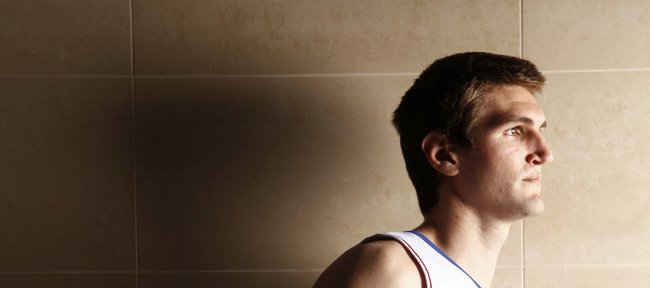 Jeff Withey wishes he could join his Kansas University basketball teammates in his native California this weekend.
"It sucks because UCLA isn't too far from home," Withey said Friday, a few hours before the Jayhawks — without Withey — boarded a charter flight for Los Angeles, site of Sunday's 4:30 p.m., nonconference clash against UCLA.
"It'd be nice to go back home (to) enjoy the weather, see the ocean," added KU's freshman center, who grew up in San Diego, just a two-hour drive from L.A.
The 7-foot, 240-pounder was left behind because of an NCAA rule that forbids transfers from traveling until they are eligible to participate in games.
Withey, who arrived at KU last January after leaving the University of Arizona, is not eligible to play until a Dec. 19 home game versus Michigan.
"I've known for a while and understand why (he can't make trip). I accepted it. It sucks, but there's nothing I can do about it," Withey said. "It will just make it a bit sweeter when I do get to play."
Withey — he suffered a stress fracture in his right knee on Oct. 20 — returned to practice part-time on Monday.
"I've been doing individual drills with coach (Danny) Manning and halfcourt stuff. By next week I should be able to go up and down and start scrimmaging," Withey said. "I think I'll be able to play on the 19th. By then my knee will be fine. I should be in shape, know all the plays and everything."
He said the stress fracture was a result of "a weird accident. I bumped knees (at practice), did some other weird stuff (to it) at the same time. It was in an awkward place. It kept me out a while."
He also missed over a month of basketball last summer because of a sprained right thumb.
"Hopefully that will be the last of it," Withey said of injuries. "I hope and pray that is the last of it."
It's not as if he arrived with a tag of being injury prone.
"I had little injuries in high school, nothing severe. I've been blessed that way," he said. "Hopefully I can keep that going."
As a senior at Horizon High, Withey chose Arizona over finalists KU and Louisville, though UCLA was in the running for a time.
"They recruited me hard," WIthey said. "I didn't think I fit in there so much."
His KU teammates are looking forward to the day he's eligible to play in a real game.
"He's an inside presence. He's long , athletic and a 'footer,' — a 7-footer," freshman Thomas Robinson said. "Anybody that tall and athletic can help the team."
Bruin recruits
KU freshmen Xavier Henry and Elijah Johnson were recruited by UCLA.
"Ben Howland is a real nice coach," Henry said. "It's a good program."
Johnson started to follow UCLA closely after he moved to Las Vegas while in junior high.
"I grew up in Gary, Indiana. It was always, Kansas, Kansas, Kansas, Kansas," Johnson said. "When I moved to the West Coast, UCLA came into the picture. My heart was in the Midwest, so it was Kansas."
Johnson will have a batch of relatives and friends at Sunday's game.
"It's exciting because it's my first game back West," Johnson said. "I get to play in front of some family and actually play against a good team that recruited me pretty hard and get to play against another school that goes down in history for a lot of things."
He really is a rookie
Xavier Henry takes a team-leading 17.0 scoring average into Sunday's game.
"No," senior Sherron Collins said, asked if he considers Henry a freshman. "I don't know what year to call him. He's a little bit ahead. (But) when it comes to freshman duties, he's a freshman."
Duties? "Carrying bags, waiting in line to eat, little things," Collins said.
Self, however, said he still considers Henry a freshman.
"There's definitely a lot to absorb, him trying to get what we are trying to accomplish on both ends," Self said. "I don't think he'll be a freshman past Christmas."
Meanwhile, C.J. Henry, who missed Wednesday's game because of a sore knee, has been practicing, Self indicated.
Zone?
UCLA, which enters with a 2-4 record, has been hit hard by injuries. Also, sophomore forward Drew Gordon announced plans to transfer earlier this week.
"There have been some rumors he (Howland) may play some zone," Self said. "Ben plays less zone than we do, which isn't much. From a depth standpoint, maybe on the perimeter, they may play some zone.
"I watched tape of our Elite Eight game (UCLA's 68-55 win over KU in March of 2007). We couldn't score on them and they couldn't score on us. The only way teams could score is if the other team helped them on turnovers."
More like this story on KUsports.com