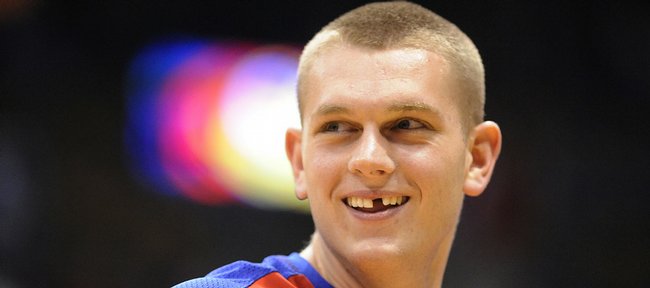 Cole Aldrich won't be humming "All I Want for Christmas Is My Two Front Teeth" this holiday season.
It seems Kansas University's eccentric junior center is content living life without his front, left chopper.
"I really don't mind it. I've been without it about 10 months now," Aldrich said.
He first had his tooth chipped in a collision with an unidentified Kansas State player last Valentine's Day in Manhattan, then had it knocked out for good in practice a few days later.
"It's a new fashion," Aldrich joked of going toothless. "It's one of those new things that Hollywood needs to get hold of."
The trend-setting 6-foot-11, 245-pounder from Bloomington, Minn., suffered an infection the first time he tried to get his tooth permanently replaced.
Thus he'll wait until April and the conclusion of the season for trip No. 2 to the oral surgeon.
"They put a bone graft in the gums and a little post in there to attach the tooth," Aldrich said. "Sometimes it doesn't always work out. It didn't work this time. Hopefully it will next time."
In the interim ... he'll continue to entertain his teammates while trying to intimidate the opposition — in tonight's case, 0-9 Alcorn State, which visits Allen Fieldhouse for a 7 p.m. tip.
"I'm kind of a weird, charismatic guy," Aldrich said, admitting it's a bit unusual to enjoy having a gap in the front of one's mouth.
"I have a retainer (holding fake front tooth), but I take it out every once in a while. I like to keep people on their toes. I like to mess with people once in a while."
It's as if Aldrich, who was born on Halloween 1988, has a scary mask at his disposal at any time.
"He'll take it (retainer) out and stick his tongue through it, just a whole bunch of goofy stuff," junior Brady Morningstar said.
The goofy stuff never fails to amuse Aldrich's roommate — junior Tyrel Reed.
"He walks around the room and cooks without it on. It's funny seeing somebody cooking with a missing tooth," Reed said.
"I've woken up in the morning and seen it laying next to my toothbrush in the bathroom. That's just Cole. That's just how he is. He's laid-back — a funny character."
The easy-going Aldrich enters tonight's game a bit rejuvenated after scoring 14 points off 5-of-8 shooting in a slump-busting 112-75 victory over Tennessee Tech last Friday.
"Anyone who has had a rough time is always a little down. Once they bust out they are feeling a lot better," Reed said, aware Aldrich was anxious to bust a two-game skid in which he'd combined for 11 points off 5-of-17 shooting with 14 rebounds.
"Cole was sick for awhile. He's feeling better now. He hasn't been taking any medicine. He's in a better mood, jovial and happy all the time like he usually is."
Of course a bad mood for Aldrich is a good mood for most individuals.
"Whether he plays good and we win — or bad and we win — he's always the same as long as we win," Morningstar said. "He's a nice guy off the court. He's a beast on the court."
This beast doesn't roar when his teammates fail to feed him the basketball.
"He demands the ball, but he needs to demand it a little more than he is," Morningstar said. "Obviously he's a focal point of our team."
Aldrich, who averages 10.8 points and 8.6 rebounds, has hit 21 of 40 shots through five games compared to his 30 of 50 shooting mark through five contests his sophomore season.
He's totaled 54 points and 43 rebounds compared to 79 points and 47 boards in the five games that opened the '08-09 campaign.
"I mean, it's kind of a thing I really enjoy just being out there whether the ball is in my hand, I'm taking this many shots or that many shots," Aldrich said.
"I'm just excited to get out there, get some rebounds, block some shots, just have some fun with the guys."
Coach Bill Self constantly reminds his players to work the ball down low and in his words, "get Cole touches."
"I thought he was better, more active and looked quicker against Tennessee Tech," Self said. "I would say I would not rank it up there to the point where he's played to his capabilities or his potential.
"That's not being negative. I think he can play better. I think Sherron (Collins) can play better, especially on the defensive end. We can all play better."
Sophomore guard Tyshawn Taylor is counting on Collins and Aldrich to step up in the squad's marquee games.
"The only close game we've had was Memphis and Cole played his best game of the season," Taylor said of Aldrich, who had 18 points and 11 boards in a 57-55 victory.
"We've been having a lot of blowout games. Sometimes when the game gets spread out like that it's harder to get the big guys touches. When we start getting to crunch time and start playing better teams and the game is a slower pace, he's going to get a lot more touches."
In the meantime, Aldrich will continue to enjoy every minute of what most likely is his final year in college. He would have been tapped in the first round of the 2009 NBA Draft had he left college after his soph season. He's again regarded as a possible lottery pick in the 2010 Draft.
"Last year's team and this year's team ... every year I've been here we enjoyed each other. We're really a family," Aldrich said. "We spend several hours a day on the court and hang out in each other's rooms off the court. We really enjoy each other's presence."
How can the players not enjoy hanging around comedian Cole?
"There's not a better kid," Self said.
And not many better players — toothless or otherwise.
"I think he's the best big man in the country," Self indicated.
More like this story on KUsports.com