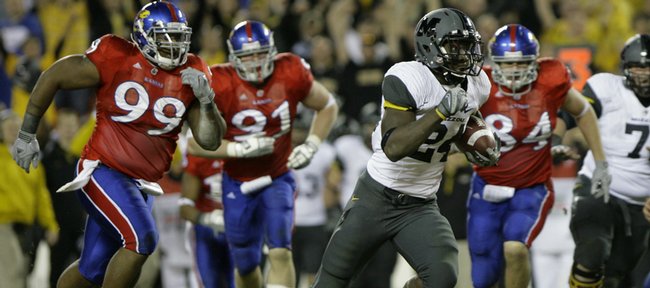 I have to admit I often become incensed at television sports commentators.
Take last Saturday's Kansas-Missouri football contest, for example. The TV throats blistered KU coach Mark Mangino for his failure to use running plays to eat the clock late.
Then they threw it back to the studio blabbers in New York, and those know-it-alls took another shot at Mangino, hinting the clock fiasco was just another reason to fire him along with the seven losses in a row and the internal kangaroo court investigating his treatment of players.
I was mad because I would have thrown the ball, too.
I couldn't blame offensive coordinator Ed Warinner for putting the pig in the air for two reasons — 1) Missouri had the worst pass defense in the Big 12, and 2) Kansas ranked No. 104 nationally (out of 120 teams) in rushing offense.
As any coach would do, Warinner went with his strengths — quarterback Todd Reesing, who led the Big 12 in total offense, throwing to Dezmon Briscoe, who ranked second — behind Missouri's Danario Alexander — in pass reception yardage.
If Reesing had connected with Briscoe — the pass was overthrown — Warinner would have been labeled a genius. Kansas wouldn't have had its back to the end zone and would have felt safer in utilizing its puny rushing attack. Instead, Warinner was a bum.
Another factor to consider was the Jayhawks' horrid defense.
Even if Kansas had been able to run time off the clock, Missouri almost certainly would have regained possession and, regardless of the time remaining, the Tigers were odds-on to make something happen quickly because KU's defense couldn't stop the Toy Bowl champs.
Newsweek has a little feature in which the magazine asks readers to sum up an event or an incident in six words. I can do that for the Jayhawks' strange five-straight-wins, seven-straight-losses football season.
Could pass, couldn't do anything else.
In retrospect, the season went down the chute during Februarys past.
On signing days, Mangino failed to land any prospects who could make plays on defense.
Mangino had offensive playmakers, but he had no one on defense who could make anything happen.
During the eight Big 12 games, KU defenders intercepted only three passes and recovered just seven fumbles. Only Baylor, the Big 12 South's 1-7 team, had fewer take-aways during conference games than Kansas.
I'll never forget what Mangino said after the Jayhawks outlasted an offensively challenged Iowa State team, 41-36, in early October for what turned out to be their last victory.
"I knew in April they were going to get exposed," Mangino said of his defenders.
In other words, Mangino was admitting he had made too many mistakes when it came to recruiting defensive players.
Isn't that what it always comes down to? Isn't that why all coaches are fired?
They can say all they want about Mangino's temper and his treatment of players, but the bottom line is he didn't win because he didn't recruit enough Big 12-caliber players.
More like this story on KUsports.com