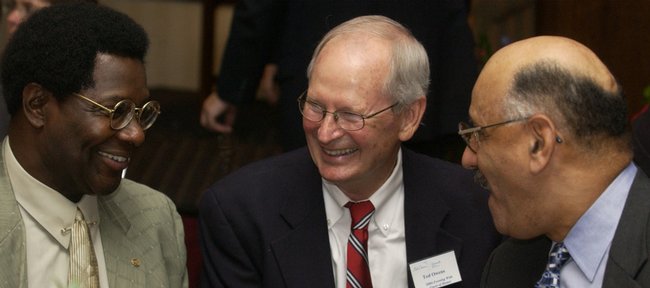 Ted Owens, who will be inducted into the Oklahoma Sports Hall of Fame tonight in Oklahoma City, and then the Kansas Hall of Fame on Oct. 4 in Wichita — plans on thanking several individuals in sure-to-be-emotional acceptance speeches at both events.
"One thing I'm going to stress is no matter how hard you work and how big your dreams are, if you don't have the help of other people, it's difficult to experience success," said Owens, former head basketball coach at Kansas University and hoops standout at both Hollis (Okla.) High School and the University of Oklahoma.
Owens — his presenter tonight will be his son, Teddy, head coach at Tulsa Lincoln Christian High School — has a story prepared to back up his point.
He never would have competed at OU (1949-51) and learned so much about the game of basketball without the behind-the-scenes help of his high school coach at Hollis — Joe Bailey Metcalf.
"Oklahoma was recruiting two of our good football players. Coach saw an opportunity to get me a chance to go to college. He told the Oklahoma (football) coaches, 'Those three boys want to go to college together,''' Owens said.
"I was a good high school football player (end), but not good enough to play at OU. I wound up getting a partial football scholarship, but ended up only playing basketball."
A three-year letter winner, Owens was second-team all-league in basketball his senior season.
He started his coaching career at then Cameron State Junior College (now Cameron University), where he recently was inducted into that school's Hall of Fame.
Of course, part of the reason Owens tonight enters the Oklahoma Hall is his body of work at KU. He ranks as third-winningest coach in KU history behind Phog Allen and Roy Williams. His record of 348-182 (.657) was compiled over 19 seasons from 1964-83.
"They are both exciting in different ways," Owens said of entering the Oklahoma and Kansas Halls the same year. "There's something special about being inducted in your home state. There will be three of my high school teammates coming up tonight. My OU teammates are coming. The high school coach at Hollis is coming. Some of my Cameron players will be there. My immediate family will be there.
"My first reaction was I wish my mother and dad were still alive to be here and see their son inducted in the Oklahoma Sports Hall of Fame. I'm really looking forward to coming to Kansas in October. A lot of KU guys said they will be there."
Owens has another milestone to celebrate this week.
He turned 80 on July 16 and on Tuesday will take part in a combined birthday party with several family members who also had birthdays in July.
"I am blessed to have such good health. I really feel good," Owens said. "We can kid ourselves sometimes, but I think I feel as good as I did 20 years ago. I am 80, but don't feel like I'm 80."
An avid golfer, Owens last year shot his age of 79 at LaFortune Park in Tulsa — a city in which he lives and still works in investment banking.
"I don't use the seniors tees. I play the regular tees," Owens said, noting he practices golf more than he plays full rounds nowadays. Last spring he went on a "once-in-a-lifetime" golf excursion to Scotland with KU coach Bill Self and others.
Owens loves nothing more than spending time on the course with family members, including his son, Teddy, whose first high school team reached the state quarterfinals last year.
"I only offer suggestions when he asks," said Ted Sr. "It's hard sometimes. As you know, up in the stands you suddenly have all the answers. Teddy will be a really good coach. I'm proud of him."
On a lighter note, Owens revealed a little known fact about his own name on Sunday night. The former KU coach's full name on his birth certificate is Teddy Lynn Owens.
"When I was in high school, everybody called me Ted," he said. "When I played at OU, our trainer was Teddy Owen. His brother, Benny Owen, was the OU football coach. My teammates at Oklahoma called me Teddy Jr. all the time. There's more than one Teddy in our family."
The Oklahoma Sports Hall of Fame Class of 2009 consists of: Owens, Tom Catlin (OU football player), John Kolb (Pittsburgh Steelers), Cal McLish (MLB All-Star pitcher), Clem McSpadden (longtime rodeo announcer) and Bob Tway (Oklahoma State golfer).
Enshrinement ceremonies will take place at 7 p.m. at the National Cowboy and Western Heritage Museum. KU officials have purchased a table for the event. Founded in 1986, the Oklahoma Sports Hall of Fame includes 116 Oklahomans.