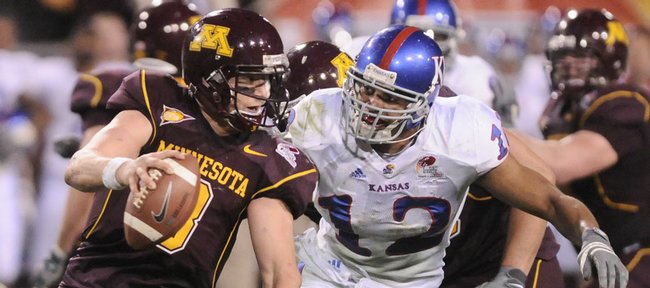 James Holt's 40-meter dash time didn't get tested Sunday. But his "Best Buy" time did.
After realizing that his cell phone wasn't working — during the second day of the NFL Draft — the former Kansas University linebacker sped out to the Lawrence electronics store.
"It was pretty nerve-wracking," Holt said. "I'm surprised I didn't get a ticket."
A few hours later, Holt put his new cell phone to good use, agreeing to a free-agent deal with the San Diego Chargers.
Holt was contacted by San Diego officials 20 minutes after the draft.
Though his agent had told him the Chargers had shown some interest, Holt hadn't heard much from the team lately.
"When they called," Holt said, "I was pretty ecstatic."
San Diego is a good fit for a few reasons. Holt has two uncles that live in the area, and the city also is located in a warm-weather climate that the linebacker prefers.
The 6-foot-3, 226-pounder was told by Chargers officials that he would get his first look on special teams.
"I started like that here (at KU), and it turned out fine," said Holt, who registered six tackles on special teams during his true freshman season with the Jayhawks in 2005.
Holt will have a quick turnaround, reporting to mini-camp on Friday. After that, he'll finish his KU classes before returning to San Diego for offseason training.
"It was kind of a bummer not to be drafted," Holt said, "but at the same time, I still get the opportunity to play."
Also Sunday, former Jayhawks linebacker Mike Rivera signed a free-agent contract with the Chicago Bears, KU officials confirmed Sunday night.
Rivera, a 6-3, 255-pounder from Shawnee, was an All-Big 12 honorable mention selection last season. He also was third on the Jayhawks with 93 tackles.
More like this story on KUsports.com