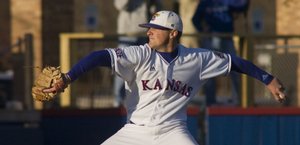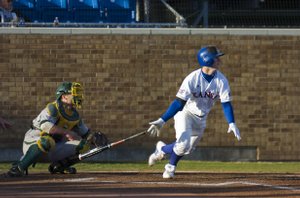 Entering the ninth inning of the Kansas University baseball teams' matchup with Baylor on Friday, Paul Smyth found himself in prime position to wipe a string of shaky outings from his mind.
Instead, the senior closer walked off the field at Hoglund Ballpark feeling the sting of a slump he can't seem to shake.
With Kansas clinging to a one-run lead over No. 7 Baylor in the top of the ninth inning, Smyth gave up three runs — two earned — to blow his fifth save opportunity of the season and allow the Bears to pull off an 8-6 come-from-behind victory in the first game of the teams' three-game weekend series.
Friday's setback dropped the Atascadero, Calif. native's record this spring to 1-5 and marked the most recent setback in an uncharacteristic stretch for the two-time all-Big 12 honorable mention selection, widely considered one of the team's most experienced and well-respected players.
"I've seen him pitch the last seven years," said Kansas coach Ritch Price, "and I've never seen him go through a period as prolonged as this struggle has been."
While Smyth's performance Friday no-doubt played a role in the game's outcome, however, the coach wasn't ready to heap all the blame onto his closer's shoulders.
Although KU managed six hits and six runs off Bears starter Kendal Volz, a player Price expects will be an eventual first-round draft pick, Kansas suffered its share of missteps, as well.
The Jayhawks committed three errors Friday, all of which led to Baylor runs, and as it has all season, the team struggled to get baserunners across the plate in key situations, stranding a total of nine runners Friday — six in scoring position.
"I told our club after the game was over, don't put that on the back end of our bullpen," said Price, whose team has dropped its past four Big 12 games after sweeping then-No. 1 Texas to open the conference schedule. "We had opportunities. Even though we scored six runs and had the lead, if we'd have had three better at-bats, we could have had three more runs."
Things started promisingly enough for Kansas, as catch Buck Afenir's two-run single in the bottom of the first inning put KU ahead, 2-0. Baylor struck back with four runs in the top of the second, taking advantage of a fielding error by KU center fielder Jason Brunansky that led to two runs, and added another in the top of the third before a big fifth inning allowed the Jayhawks to pull ahead 6-5, a score that would remained unaltered until the ninth.
Price didn't indicate Friday whether or not the team might experiment with another closer temporarily in the wake of Smyth's slump. He said he planned to sit down with pitching coach Ryan Graves to discuss the possibility of altering the senior's bullpen sessions in an effort to shake things up. He said the team's coaching staff is trying to remain optimistic.
Smyth's teammates, meanwhile, appeared far from discouraged.
"He's a tough guy," said Afenir, who finished 3-for-4 with three RBIs. "I guarantee tomorrow he comes up (big) in the same situation."
More like this story on KUsports.com