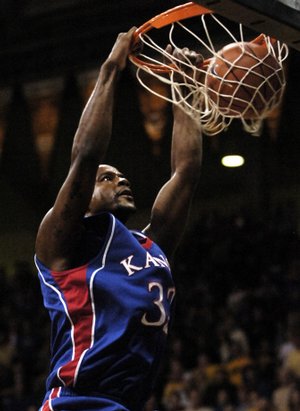 Darnell Jackson wanted to share his good fortune with members of his extended Kansas University basketball "family."
So the 6-foot-8, 250-pound former KU power forward cell-phoned the Journal-World from the lobby of the Doral Arrowwood Resort Friday afternoon in Rye Brook, N.Y., as he prepared to sign a three-year guaranteed contract with the Cleveland Cavaliers.
"I want my teammates, coaches and all our fans to know I couldn't have done it without them," the Cavs' second-round draft pick said, asking the J-W to print his open letter to the fans.
"The coaches were my role models for four years. Coach Self ... I consider him my stepdad," Jackson added of sixth-year KU head coach Bill Self. "He always told me hard work would pay off. Coach (Kurtis) Townsend, (Joe) Dooley, (Danny) Manning taught me so much.
"The fans ... I felt them carrying me the whole year," Jackson added, referring to support during KU's 2007-08 national title season. "The student section would stand and clap before the game. It might have seemed to them that I was not listening, but I heard every word they said. If they could have played for the team and given their sweat, they would have, too."
Jackson wouldn't disclose monetary figures, but was willing to read the years "2008-09, 2009-10, 2010-11" from the legal document, sent to him by his agent at the site of the NBA Rookie Transition Program just outside of Manhattan.
Jackson was so giddy Friday he phoned his mom, Shawn, to have her offer her input in a three-way call to the J-W.
"I'm ecstatic. He's come so far. He deserves everything because he's worked for it," Shawn Jackson said from her home in Oklahoma City. "Eight years! He's played the game eight years, and now he's in the NBA.
"After he heard he was getting the guaranteed contract, he called coach Self. Coach Self cried, just like I did."
Self is the man who talked Jackson into persevering two years ago when he considered leaving school to be with his mom, who suffered serious injuries in a May 29, 2005 car wreck - a wreck responsible for the death of Jackson's grandmother, Evon.
"I'm as happy for Darnell as I've ever been for anybody. I'm as proud of Darnell as anybody I've ever coached," Self said Friday night. "He was tough enough to see it through.
"He has fought through adversity and kept a great attitude. He worked his tail off, got better, graduated and certainly has represented all of us well.
"I'm happy for all our guys. I talked to Sasha (Kaun, CSKA Moscow) today, and he's doing great."
Darrell Arthur and Brandon Rush were tapped in the first round of the 2008 NBA Draft; Mario Chalmers went in the second round. All signed guaranteed contracts shortly after the draft ended.
Kaun, also a second-round pick of the Cavaliers, will make over $1 million a year playing in Russia the next two seasons, with an option for a third season. Undrafted Russell Robinson recently signed to play for a team in Turkey.
Self now has coached nine power forwards/centers who advanced to the NBA: Arthur, Jackson, Wayne Simien and Julian Wright of KU; James Augustine, Robert Archibald, Brian Cook and Roger Powell of Illinois; and Michael Ruffin of Tulsa. The latest signee, Jackson, plans to be smart with his newfound riches.
"They are teaching us what you have to deal with in the NBA," Jackson said of lessons at NBA orientation. "They tell us we are not boys anymore. They talk about maintaining, saving money, making good decisions on investments."
Jackson plans to help his family members as much as he can.
"The only negative ... in looking for places to live, I thought about what it would be like if my grandma was still here, feeling the love and enjoying what's happening," Jackson said. "I know one thing - she's watching me right now, looking down on me now, and she's happy."
Note: Daniel Orton, the No. 22-rated prospect in the high school basketball Class of 2009, will visit KU for the Oct. 17 Late Night In the Phog, Rivals.com reports. The 6-10 center from Oklahoma City will visit Kentucky on Oct. 10.
More like this story on KUsports.com