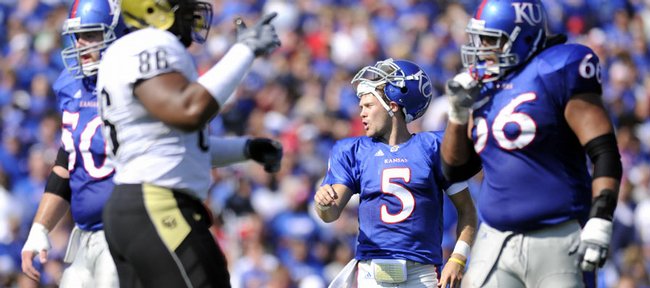 Videos
KU football vs. Oklahoma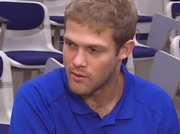 Complete video coverage of the Jayhawks' trip to Norman, Oklahoma to take on the Sooners in the 'Hawks' third conference game of the season
Podcast episode
In this week's episode of Going Deep, Matt Tait and Eric Sorrentino talk with Jake Trotter, Oklahoma beat writer for The Oklahoman. Trotter talks about the joys of covering one of the nation's top teams and, along with breaking down the matchup, offers the KU football team a little advice ...
KU vs. Oklahoma: Pregame
There was that "U" word again, coursing through the Mrkonic Auditorium on Tuesday afternoon.
It was coming from everywhere.
There it was in the back corner of the room, fresh off the lips of Kansas University linebacker James Holt. There it was, too, a few yards away, coming from cornerback Chris Harris.
On the eve of their most anticipated game of the season - a 2:30 p.m. meeting today with national power Oklahoma - the Jayhawks are busy dusting off their favorite phrase of seasons past.
"We like being the underdog," Harris said. "That's just how it's going to be at Kansas."
It has been awhile since the Jayhawks could use that word with a straight face. In fact, Saturday's game against the fourth-ranked Sooners will mark the first time since last season's Orange Bowl that the Jayhawks will enter a game ranked lower than their opponent. (For those scoring at home, that's six straight weeks of favorite).
In the meantime, they've developed into one of the nation's most formidable forces. The Jayhawks are a combined 17-2 since the start of the 2007 season. They have won 13 consecutive home games, and, with the exception of a last-second road loss to then-No. 19 South Florida on Sept. 12, have passed each of their tests so far this season.
Despite the program's recent rise to national prominence, however, Kansas coach Mark Mangino insists his team hasn't forgotten how to thrive in the "always-outnumbered, always-outgunned" role.
"We're used to it," Mangino said. "... We always are best when we're coming from the rear. It's when everybody has expectations that are beyond reason that we can't match those. But our kids are in a position that they've been in for years here, and they're used to it. And we kind of like it."
Which is good, because today the Sooners are 20-point favorites over Kansas, widely expected to take out their aggression from last week's 45-35 loss to rival Texas out on the visiting Jayhawks.
Do not, however, underestimate the Jayhawks' ability to use any slight - real or imagined - to their advantage. This is a team, after all, that apparently notices the amount of love bestowed upon it by members of the national media.
"Like with (ESPN analyst) Mark May or somebody like that?" Holt said. "He always picks us to lose."
At 5-1 (2-0 in the Big 12) and No. 16 in the Associated Press poll, the Jayhawks admit that, with the exception of a handful of upcoming games, the underdog tag doesn't really apply much anymore. But that has not stopped them from pulling it out this week in an effort to prepare themselves for their first real conference test of the season.
"No," said Holt, asked whether the team still feels like an underdog on a regular basis. "But we like to stick to the basics. We know we're a more successful team, but we'd like to stick with the mind-set that we're always the underdog, because that pushes you."
They certainly seemed to be acting the part Tuesday, during the team's weekly meeting with the media. Quarterback Todd Reesing did not appear overly pleased to be answering questions about the Sooners and their highly touted defense. Nor did he seem to enjoy a question about a potential upset this weekend.
"I guess we're already talking upsets now," a particularly grumpy Reesing growled.
As for the re-emergence of the underdog role, Reesing wasn't quite sure how he felt.
"I don't know what we feel like," Reesing said. "We're out there, we're just trying to play football. We don't worry about what the papers say, if we're underdogs, if we're expected to win, anything like that. Every team we play is going to be good, and we always approach every game (expecting) to win."
More like this story on KUsports.com