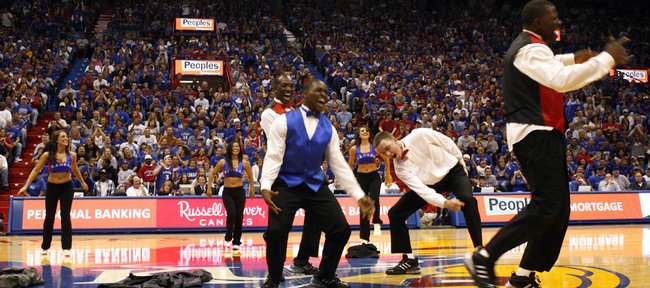 And at 8:56 p.m. on Friday, Oct. 17, a national title banner was unfurled in the south rafters of tradition-rich Allen Fieldhouse.
"I almost started crying. I don't think I was the only one. I almost did," sixth-year Kansas University basketball coach Bill Self said after a highly emotional, memorable 2008 Late Night in the Phog.
"That was a big-time deal. I can't imagine it being any better than that."
Self and 16,300 fans watched with great interest as Big 12 title and Final Four banners were put on display.
Finally, at the conclusion of a dramatic NCAA Tournament highlight video, a temporary 2008 NCAA championship banner was unwrapped underneath the Kansas state flag, smack in the center of the south rafters.
An official 2008 NCAA title banner will be hoisted in the north end next to KU's other four NCAA title banners before the KU-Florida Gulf Coast game on Nov. 18.
"I watched every bit of it," KU junior guard Sherron Collins said of the video as well as the banner ceremony. "I think me, Cole (Aldrich) and a couple others off last year's team ... it was more emotional for us.
"It all came back," Collins added of KU's overtime victory over Memphis that gave the Jayhawks the '08 crown. "It was a great year."
The ceremony took place after one dance skit involving all of the current players.
KU's seniors danced the Charleston from the '20s, recognizing KU's titles in '22 and '23.
The sophomores boogeyed to "Lawdy Miss Clawdy" from the '50s, signifying KU's title in 1952.
The freshmen danced to "The Way You Make Me Feel" from the '80s, recognizing KU's '88 championship. Finally, the juniors danced to "Ching a Ling: Ain't no Money in the Bank," for the 2008 crown.
Juco transfer Mario Little by far was the Jayhawks' top dancer, gyrating wildly with Brady Morningstar, Tyrone Appleton and Sherron Collins during their performance.
"I've been working with the guys on different things," Self joked.
On basketball, not dancing.
The coach watched a 20-minute scrimmage with interest, one in which the Tyshawn Taylor-led Red team stopped the Blue squad, 48-34.
Freshman guard Taylor scored 17 points off 4-of-7 shooting - he hit three threes in three tries - and also dished two assists against four turnovers with two steals.
"Yeah, he is pretty good," Self said of the New Jersey native. "(But) guys should make shots when nobody is within five to six feet of them.
"He's good. They are all good players. You guys can see there's more depth maybe than we've had, maybe not as much star-type status right now. Put 10 or 11 out there, and you can't really tell them apart right now."
Tyrel Reed scored eight points with three assists. Conner Teahan tallied seven points, while Marcus Morris and Aldrich had six in a winning cause.
Markieff Morris, who had two points for the Red team before switching to the Blues, had 13 points and six boards for the losing squad. Collins had eight points and Travis Releford seven.
Brady Morningstar had three assists.
"Marcus ... you can see how skilled he is for a big guy," Self said of the 6-8 freshman. "That is a skilled guy. He'll be a tough matchup, especially at the 4 (power forward). Markieff got down there and knocked and banged. Cole was good," he said of Aldrich, who also had four rebounds. Mario Little (four points, two boards) did some nice things as well," Self added.
Self said he didn't learn much from the scrimmage. Remember, he already has taken the team to Canada, minus the twins, for three games.
"I told the guys we didn't play bad," Self said. "We looked decent out there, (playing) brother-in-law ball, no defense. Guys are tired and all that stuff. I don't think we got much out of it except to get out there under the lights, see how guys react. What we got out of it ... it's a pretty good way to sell your program.
"Look at all the media here tonight, television-wise. It'll all be on YouTube, ESPN highlights. Of course as far as recruiting, it couldn't have been much better."
The team was to practice for real this morning.
The first exhibition game is Nov. 4 versus Washburn.