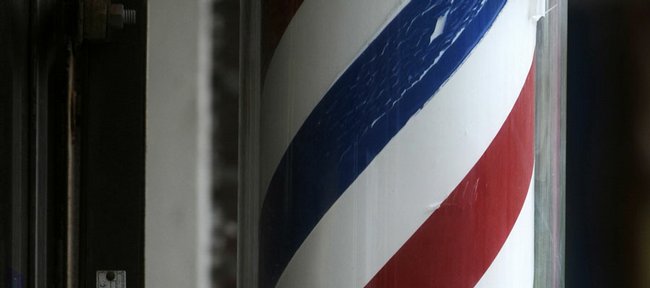 As I was well into an opinion-finding tour of the downtown hair-cutting establishments, the sign on Ninth Street stared mockingly from a distance, like mirages teasing thirsty cowboys in all those Spaghetti Westerns: "Joe's Bakery."
At least the cowboys had fleeting hope. I was armed with the knowledge that Joe's long since had closed, meaning no more peanut butter brownies. Cruel world. And what an optimistic world it has become on the Kansas University football front.
Men who cut hair for a living tend to talk sports. It's worth wondering if the haircuts are optional and come free of charge, and it's the sports opinions that cost money. There is nothing optional about listening to them at the local barber shops. With scissors, they spare ears. Not so with sports opinions.
Jon Amyx of Downtown Barber Shop foresees a 10-2 season.
"Oklahoma, Missouri, Texas : I think we're going to win one of those games," he said.
Cutting hair on Mass Street for 33 years, Amyx has seen a lot of losing football teams.
"A couple of years ago, we should have gone 10-2," he said of the 6-6 finish in '06. "This past year we just did what we should have done two years ago. I just want back-to-back bowl years. I can remember years you had teams like this coming back, and what happened? Where did they go? I think (KU coach Mark) Mangino's got it going on. There's a lot of positive thinking going on. I had a couple of guys in today who said, 'I hate to wish the summer away, but I'm ready for college football.' The NBA just doesn't do it for them."
Jon's son Jay was cutting hair next door, where he once gave former KU quarterback great David Jaynes a trim. He also guessed 10-2. Ben Van Sickel, working from the next chair, called a 9-3 record.
City Commissioner Mike Amyx, Jon's brother, cuts hair at Amyx Barber Shop, just down the street. He made a 9-3 call, and so did Chuck Rosenbaum, working one chair over.
Rex Porter of Rex's Stadium Barber Shop weighed in at 10-2 and predicted that KU would defeat either Oklahoma or Texas.
If Charles Dickens didn't already claim the title, the book on the upcoming season could be called "Great Expectations."
Tim Ellis, working out of Rex's shop, forecasted 9-3. Larry Franklin of Larry's Barber Shop said KU would "run the North" and go 8-4. His son Larry went with 9-3.
At Watson's, Tim "Nelly" Nelson, a Lawrence High basketball player a couple of decades ago, was cutting the hair of Tyler Hansbrough's personal tormentor, Cole Aldrich, and arguing across the shop with Marty Watson. Nelly said Derrick Rose will be the first pick in the NBA Draft. Watson insisted it will be Michael Beasley. Nelson called a 10-2 record. Watson wondered about the offensive line and guessed 9-3.
And then there was a voice in the wilderness, Rockie Browning of Images on Ninth Street. Friends, he said, call him a curmudgeon when it comes to KU football. He predicted 7-5.
"It's KU football," he said. "That pretty much sums it up. I hope I'm wrong, but I've always been a realist when it comes to football."
Call it 8-4 and consider it a successful regular season.
More like this story on KUsports.com