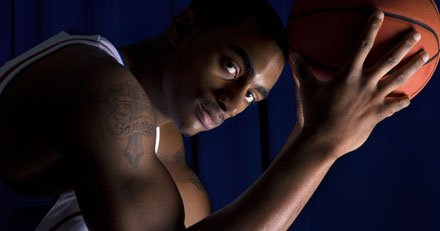 Darrell Arthur
Darrell Arthur emerged as a lottery pick in four of five mock drafts released moments after Tuesday night's NBA Draft lottery in Secaucus, N.J.
Arthur, a 6-foot-9 power forward who just completed his sophomore season at Kansas University, was tapped eighth overall (Milwaukee) by ESPN's Jay Bilas, ninth (Charlotte) by NBAdraft.net, 12th (Sacramento) by ESPN's Chad Ford, 13th (Portland) by Sporting News' Mike DeCourcy and 16th (Philadelphia) by Draftexpress.com.
The top 14 picks of the June 26 draft constitute the lucrative lottery.
Arthur, who has not signed with an agent, has said he'll definitely be NBA-bound if he's assured the top half of 30-pick Round One.
Former KU guard/forward Brandon Rush, who has signed with an agent, was deemed a lottery pick only by ESPN's Bilas (No. 14, Golden State). Rush was tapped No. 22 (Orlando) by ESPN's Ford, Sporting News' DeCourcy and Draftexpress.com and No. 26 (San Antonio) by NBAdraft.net,
KU guard Mario Chalmers, who has not signed with an agent, was tapped No. 24 of the first round (Seattle) by DeCourcy as well as NBAdraft.net and the sixth pick of Round Two (Portland) by Draftexpress.com. ESPN's Ford considers Chalmers an early second-round pick.
Of Arthur, Ford wrote at ESPN.com: "The Kings are hoping that either (D.J.) Augustin or (Russell) Westbrook falls into their laps. However, if they're not available, Sacramento will likely have to make a tough choice between a number of power forwards. Of the group, Arthur has the greatest upside as an athlete and a scorer. But he's going to have to improve his rebounding to really make it in the league."
Of Rush, Ford penned: "There's quite a bit of buzz over Rush at the moment. He's got the size, athleticism and shooting ability needed to excel as an NBA 2-guard. He is also an excellent defender and should be ready to step in and contribute right away. He's a perfect fit for Orlando."
¢ Katz on Arthur: ESPN's Andy Katz has reported the results of a poll conducted to get consensus of the lottery. In all, 26 of 30 NBA teams responded to Katz's questionaire.
Twenty-two of 26 NBA teams deemed KU's Arthur a lottery pick. KU's Rush was deemed a lottery pick by two teams.
Arthur is "thought of highly enough to stay in the draft," Katz indicated.
¢ Lawsuits galore: Dallas South Oak Cliff High basketball coach James Mays said Tuesday he's spoken with an attorney and still plans on pursuing legal action against former South Oak Cliff math teacher Winford Ashmore.
Mays said Sandra Arthur, mother of Darrell, also has spoken with legal counsel and plans on pursuing legal action against Ashomore as well as Dallas TV station WFAA. The station recently aired a report in which Ashmore accused Mays and former Oak Cliff principal Donald Moten of changing Arthur's failing math grades to passing marks.
"We have two different complaints," Mays said, referring to his complaint and one of the Arthur family. "Their rights were violated as far as the release of grades are concerned. Mine is basically defamation, slander. They (Arthurs) are getting all things in order, but probably will try to seek action both on the guy (Ashmore) and the TV station.
"Whatever we can do, we will do," Mays added. "This is both malicious and wrong," he added of accusations there was grade changing involving Arthur.
More like this story on KUsports.com