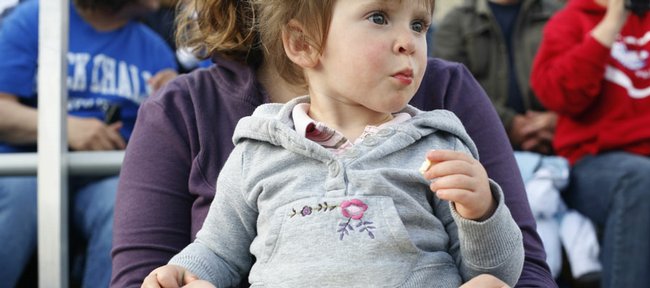 Come Monday, Sandy Davalos knows what some of her young students will be talking about in class: their experience at a Kansas University baseball game.
Davalos, an early childhood special education teacher at East Heights Early Childhood Family Center, and some of her students were at Friday's KU home game as part of a new "Caring for Kids" program.
The idea for the program came from Bud Walker, a 1956 KU graduate and baseball fan; it was pursued by Ritch Price, KU baseball head coach, and was launched at the beginning of the season. It provides at-risk children in the community and their families an opportunity to see a KU game, complete with a free hot dog, and to participate in activities at the game.
"It's an amazing opportunity for these guys," Davalos said. "One thing I love about it is that it gives the kids an opportunity they probably would not have had if it hadn't been made available by Mr. Walker."
Walker, 76, started a charity in Pittsburg, where he resides, that supports youths from low-income families and that helps replace items lost in house fires. As a longtime KU supporter, he thought it was time to start something similar in Lawrence. Besides, "baseball is America's favorite pastime," he said.
Kelcee Reese, 5, was especially excited to go to her first KU baseball game. The pre-kindergartner was chosen by her school to throw the first pitch of the game, but that's not all she was smiling about.
"I saw Jayhawk, he signed my ball," she said about Baby Jay at the game.
Her mother, Jessica Cheek, shared her enthusiasm.
"I'm excited. This is my first time to a game," she said. "We got to meet some of the baseball players and Kelcee got to throw the first pitch, so we had fun."
Later in the game, children participated in a race around the field.
Walker said the program will continue next year and he hopes it will grow.
As for coach Price, he said, "It's a program I'm absolutely thrilled to be a part of."