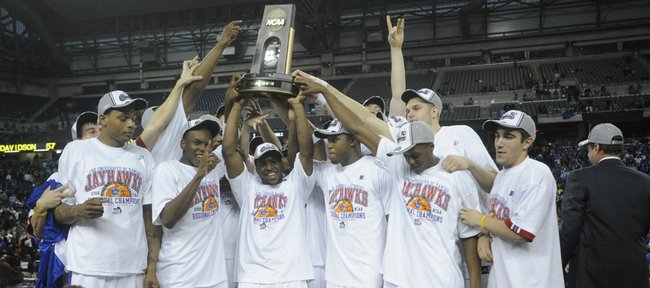 Feature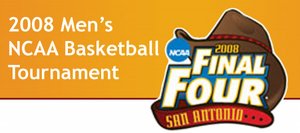 Get your March Madness fix at KUSports.com.
Final, KU wins 59-57
DETROIT, Mich. -Let the week of hype begin.
Thanks to a 59-57 Kansas University victory over Davidson Sunday in Detroit which was sweated out until the closing moments, the matchup everyone has been waiting for is set.
Bill Self and Kansas will take on Roy Williams and North Carolina next Saturday in San Antonio, as Sunday's victory propelled the Jayhawks to their first Final Four appearance since 2003. It also sets a Final Four field consisting of four No. 1 seeds for the first time since the field expanded to 64 teams 19 years ago.
Davidson sophomore Stephen Curry got his points, but on a rough shooting night overall, he still finished with 25 points. Jason Richards, who scored seven points for Davidson, had a shot at the game-winning three at the buzzer, but missed.
Mario Chalmers and Sasha Kaun led KU with 13 points apiece. Kaun's 13 off the bench were key, as he was the Jayhawks' most consistent low post threat all night. Brandon Rush added 12 and Darrell Arthur seven.
For more on this story, log back onto KUSports.com throughout the night, tomorrow morning and pick up Monday's Journal-World.
:59.8, second half, KU leads 59-53
DETROIT, Mich. -Sasha Kaun dropped in two out of the timeout after a long range Davidson miss. Bryant Barr answered again for the Wildcats, scoring two in close off the glass. Darrell Arthur did the same thing on the other end, keeping KU ahead, 56-53.
Mario Chalmers missed a one-hander in close after the final TV timeout of regulation, but a missed three by Max Paulhus Gosselin for Davidson eventually sent Sasha Kaun to the free throw line following Andrew Lovedale's fifth and final foul of the game on the other end.
Kaun made one of two, putting KU up by four with just over two minutes to play.
Stephen Curry missed a three in transition off a Jason Richards steal against Sherron Collins, and Brandon Rush was fouled immediately after. Rush hit both bonus charities, putting the Jayhawks ahead by six with 1:15 to play.
6:11, second half, KU leads 52-51
DETROIT, Mich. -Bryant Barr hit a three off an inbounds pass for Davidson after the timeout, but after Stephen Curry blew a chance to extend the lead, Darnell Jackson slammed home two in transition. Barr then took another look in the corner and cashed a three to pull Davidson back to within one at 45-44.
Andrew Lovedale then put Davidson ahead with a turnaround jumper on the baseline which got a bit of help from the iron. The bucket had a foul call on Jackson to go along with it.
Lovedale missed the charity out of a timeout, but KU turned it back over under heavy defensive pressure. Bryant Barr then nailed his third three in a short time span from up top, giving Davidson a four-point lead with nine minutes to play. Sasha Kaun slipped it back down to two with a follow-up to a Mario Chalmers missed floater. Stephen Curry answered right back, giving himself 22 points on a pull-up jumper at the free throw line.
Mario Chalmers stole an errant pass out of a Bill Self timeout and scooted for an easy two to pull KU back within a bucket at 51-49, and Stephen Curry then missed an open three on the wing, giving KU a chance to tie or take the lead inside of seven minutes to play.
Sherron Collins' first field goal of the game gave the lead back to KU with 6:11 to play, hitting a straight-on three.
11:59, second half, KU leads 43-38
DETROIT, Mich. -Andrew Lovedale put in two going under the rack off an offensive rebound after a Stephen Curry three miss, putting Davidson up 37-35.
Brandon Rush put home his first three-pointer of the game in response, and Mario Chalmers had a chance to add two points in transition quickly after that following a steal, but it fell off the rim and was no good.
Sherron Collins extended the lead after a Lovedale miss to three points at 40-37, hitting a pair of free throws for his first points of the game.
Brandon Rush then put home a huge bucket driving off the glass while drawing a foul, putting the Jayhawks up by five. His free throw gave him 10 points and gave KU its biggest lead yet at 43-37.
Davidson's Jasoon Richards responded by getting to the free throw line, hitting one of two to pull the Wildcats back to within five with 11:59 to go.
15:51, second half, game tied 35-35
DETROIT, Mich. -Stephen Curry hit a two for Davidson after KU failed to score on its first possession out of the half, tying the game, 30-30.
Russell Robinson then missed a three from the wing on the other end. Curry then drowned a three with a hand in his face to put Davidson up three. Sasha Kaun dropped in two off a spin to pull the Jayhawks to within one, 33-32.
Jason Richards had a chance at an open three on the other end and missed, though after a Brandon Rush three miss, Thomas Sander scored two inside while drawing a foul, putting Davidson up three. He missed the free throw, and Sasha Kaun worked it back down to a one-point deficit again off an alley-oop slam. He missed the free throw to go with it, but KU turned it over off the offensive rebound. Max Paulhus Gosselin returned the favor, carrying the ball in transition and giving KU a chance to take back the lead.
Darnell Jackson tied it up, 35-35, hitting one of two free throws, making him 1-of-4 from the line on the afternoon. Sasha Kaun was called for a foul going after a defensive board, taking the game into a full timeout with him having three fouls after that whistle.
Halftime, game tied 28-28
DETROIT, Mich. -Darrell Arthur was called for a charge after losing the ball on his way to the bucket out of the Davidson breather, but Stephen Curry missed a three on the other end, giving KU a chance for possibly the last shot of the half. Darnell Jackson chipped in a tough two inside, and Davidson couldn't respond quick enough, with KU taking a 30-28 lead into the half.
Mario Chalmers led the Jayhawks with 11 points, while Stephen Curry, who has scored 30-plus points in all four career NCAA Tournament appearances heading into today, leads all scorers with 15. Brandon Rush and Darrell Arthur have two fouls apiece for the Jayhawks.
1:17, first half, game tied 28-28
DETROIT, Mich. -Darrell Arthur fed Darnell Jackson for a tough two points in transition after the full break, and when Davidson brought the ball back up down two, KU applied a box-and-one zone defense.
The Wildcats went scoreless on their first possession, and Darrell Arthur was fouled going up for two on the other end, getting himself to the line for the first time. Arthur cashed one of two, making it a three-point game.
Stephen Curry tried for a three off a quick screen on the other end, but was fouled and got to the line for a trio of charities. He cashed all three, tying it again, 26-26.
3:58, first half, game tied 23-23
DETROIT, Mich. -Stephen Curry dropped in a soft floater after the timeout to put Davidson back up by three. The two teams then traded misses before Mario Chlamers smacked another three to give himself nine points and tie the game, 19-19.
Mario Chalmers scored again on his next opportunity, following a Jason Richards jumper. Curry answered that with another floater. KU then attacked the size advantage again for two inside, this time from Arthur.
Davidson then used a pair of solid post traps to force KU into timeouts under durress. After the second one, KU turned the ball over thanks to a shot clock violation.
Jason Richards aired a three just before a full timeout on the floor, with the game tied 23-23.
15:49, first half, game tied 2-2
DETROIT, Mich. - Brandon Rush controlled the game's opening tip for KU, but missed a three off a kick-out pass from Mario Chalmers, sending the ball with Davidson. The Wildcats couldn't score on their opening possession, but trapped and forced a loose ball tie-up to get the ball back on the other end.
Andrew Lovedale scored the game's first points off a lightning-quick feed from the perimeter from Jason Richards, dropping it in off the iron.
Sasha Kaun evened things by tipping in a Mario Chalmers up-and-under miss. He then grabbed a defensive board off a Stephen Curry awkward miss.
The two teams then traded misses, first with Darrell Arthur getting a shot swatted from behind by Lovedale, then Curry missing a three up top off a screen, keeping things knotted at 2-2.
Sasha Kaun then swatted a Lovedale look inside after Brandon Rush missed another three, giving KU another shot at grabbing the lead. Mario Chalmers kicked to Arthur, but a shot off the glass missed. Lovedale then missed again, this time from about 10 feet away.
The game went to a full break at 15:49, still tied 2-2.
Pregame
DETROIT, Mich. - Some say the Midwest Region opened up in the NCAA Tournament for the top-seeded Kansas Jayhawks. The biggest reason it 'opened up', though? No. 10 Davidson, who is the final team standing in KU's way in its quest to return to the Final Four for the first time since 2003.
A win today over the Tournament's favorite underdog would earn the first Final Four berth for KU coach Bill Self, who today coaches in his fifth Elite Eight game.
Davidson comes into today's game as hot as anyone, having already taken care of No. 7 Gonzaga, No. 2 Georgetown and, most recently, No. 3 Wisconsin. It's no secret who carries the bulk of Davidson's hopes on his shoulders. It's sophomore guard Stephen Curry, who wound up at the Southern Conference school after being passed up by several major programs along the East Coast. Curry has already scored 103 points in three games in this NCAA Tournament, including 33 in Friday's win over Wisconsin.
He wasn't alone, though, as senior point guard Jason Richards was as efficient as could be in running the offense, finishing with 13 assists to zero turnovers.
KU took care of No. 12 Villanova Friday with relative ease, following behind a game-high 16 points from Brandon Rush and 15 points coupled with suffocating defense from Russell Robinon. The Jayhawks won 72-57.
Today's game will tip at approximately 4:05 p.m. (CDT).
Stay tuned here for live game updates at each television timeout, halftime and after it's done.