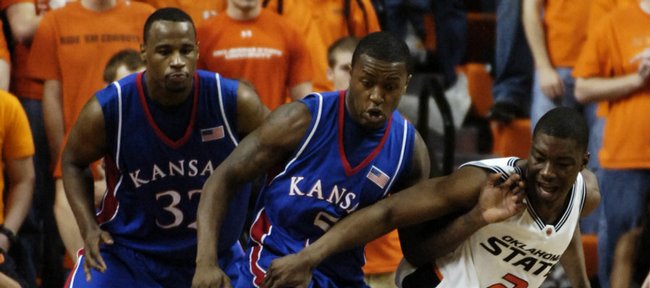 Podcast episode
KU coach Bill Self held his weekly press conference Monday in Hadl Auditorium. Self discussed his teams problems right now - many of which are intangibles. Plus, Self said Darnell Jackson will not miss Wednesday's or Saturday's games, but will return to Oklahoma City to be with his family Thursday ...
It has been difficult for Darnell Jackson to concentrate on basketball the past six days since learning his beloved cousin, Kascey Corie McClellan, died of gunshot wounds sustained in a Feb. 9 incident at an Oklahoma City nightclub.
"It's frustrating because I lose track of my mind on the court. I go off into a daze thinking of stuff," said Jackson, Kansas University's senior forward from Midwest City, Okla.
He will play in Wednesday's KU-Iowa State game in Ames, then travel to Oklahoma City on Thursday in time for McClellan's funeral. He'll return to Lawrence for practice Friday.
"We were real close. I go home over the summer, and he used to put my picture on his computer as a screen saver," Jackson said. "It's going to be hard to see him when I go back."
Jackson's teammates have kept a close eye on the 6-foot-8, 250-pound teddy bear the past several days.
"They are making sure my mind is in the right place, that I don't do anything crazy like going home again (as he did last year for a few days while mourning the death of his grandmother). They watch over me," Jackson said.
Senior Rodrick Stewart currently is in Seattle for Wednesday's funeral services for his brother, Allen, who was murdered Wednesday. Stewart will miss the 6 p.m. Iowa State game. He'll be back in Lawrence on Thursday.
Coach Bill Self said Tyrel Reed and Jeremy Case could see significant playing time Wednesday, especially if Sherron Collins' bruised right knee isn't feeling well.
"The bruise is under my kneecap," Collins said. "It's one of those deals : it's real sore. It's gotten better every day."
¢
Coach must lead: Self said he has stopped looking for a vocal leader on the team.
"It's not going to happen this year. We've been talking about this four years. It's not going to happen," he said, noting his last vocal leaders were Aaron Miles and Wayne Simien.
"It needs to come from me. I need to do a better job providing leadership. I can't talk on the court. From an on-court standpoint, I'd hope the guards would take the team under control."
More like this story on KUsports.com