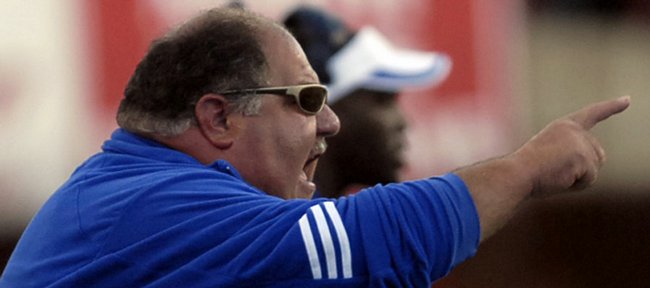 The prevailing message to come out of the Kansas University football team's Friday afternoon news conference, during which the university announced that it will be putting on sale tickets to the 2008 Insight Bowl?
Yes, the back-to-back bowl bids are nice. And, yes, so is the inviting climate of the team's postseason destination, Tempe, Ariz. But at the end of the day, the Jayhawks are traveling to the desert to do one thing.
"Our players will be the first to tell you," Kansas coach Mark Mangino said. "The most fun of going to a bowl game is winning it. And that's what the trip is all about."
While the Kansas athletic department isn't yet allowed to rule the game official, Friday's announcement represents a green light to Kansas fans planning to travel to Tempe for the Dec. 31 game.
A total of 10,500 tickets have been set aside for the Jayhawks and are currently on sale at a cost of $55 per ticket, although KU students receive a discounted price of $25. (Tickets can be purchased online at kuathletics.com or by calling the KU ticket office at 1-800-34-HAWKS).
"It is all but certain that Kansas will be playing in the Insight Bowl," Big 12 commissioner Dan Beebe said in a release. "Formal Big 12 procedures prevent the conference from making an official announcement until Sunday afternoon. We are aware that fans from all of our schools, including Kansas, want to begin making plans to attend these contests."
Having now made history, however — this is the first time in the program's 119-year history that the Jayhawks will compete in a bowl in consecutive seasons — Kansas now will turn its collective attention to concluding its '08 season on a winning note against a yet-to-be-determined Big Ten opponent.
And if past experience is any indication, players shouldn't expect too big a reprieve from their regular-season workload over the course of the next few weeks.
"Going into the Orange Bowl last year, the players that had never went to a bowl game with us before were kind of like, 'Man, coach is killing us,'" junior safety Darrell Stuckey said. "The first few days we were there, we had full practices, it was full contact, it was 21⁄2 hours, we ran after practice and everything. And everybody was like, 'It feels like a dang two-a-day.'"
It worked last year, as the Jayhawks managed a 24-21 victory over then-No. 5 Virginia Tech.
The setting will be a bit different this time around. At 11-1 last season, the Jayhawks were entering onto a national stage with an opportunity to propel the program to never-before-reached heights. This year, with a 7-5 record, they're hoping to end the season with eight victories, a seemingly significant accomplishment in light of a regular-season schedule that featured games against three teams currently ranked in the top 10 nationally.
Currently, bowl forecasts call for Minnesota to earn the Insight nod — with Wisconsin also a possibility — and an announcement is expected to come from the Big Ten by Sunday at the latest.
In the meantime, Kansas will take to the practice fields with a singular focus.
"We don't want to just go play, we want to win back-to-back bowl games," junior quarterback Todd Reesing said. "And the opportunity is there, so it's ours to go out and take."
More like this story on KUsports.com