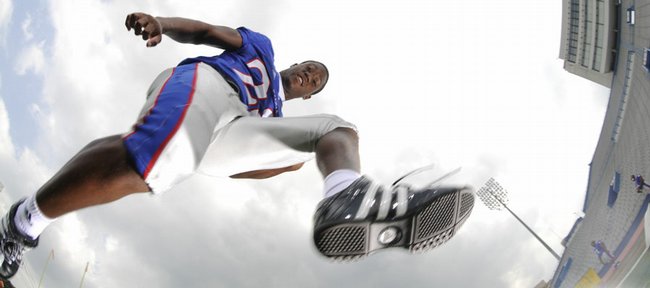 A few weeks back, during the Kansas University football team's annual media day, Daymond Patterson was not sure what his immediate future would entail.
A true freshman competing in his first college training camp, Patterson was in the process of making the sometimes-smooth, sometimes-bumpy transition from high school to Div. I football, and despite whispers that he stood the best chance to forgo a red-shirt season, he stopped short of saying he'd prefer to play right away.
"I'll be ready for whatever they have in store for me," he said at the time.
Turns out, it's quite a lot.
Earlier this week, Kansas coach Mark Mangino announced that Patterson will be taking over as the team's starting punt returner, while also working as a reserve receiver on a corps that has the potential to be the team's offensive strong suit this season.
Thanks to an impressive showing in the team's summer workouts - and the kind of speed that has coaches raving - Patterson enters today's 6 p.m. home opener against Florida International as one of the team's most anticipated newcomers.
"I've never recruited a guy who I thought would come in and play as a true freshman, because the transition from high school to Div. I is a great leap, no matter what anybody tells you," Mangino said. "If somebody can do that, then that's a bonus. And Daymond has proved that he can play right now at this level."
While Patterson potentially could see time at receiver tonight, the more urgent matter will center on his performance as a punt returner. Despite finishing 12-1 and winning an Orange Bowl during their most successful season in school history, the Jayhawks struggled mightily in that department in 2007.
Over the final 11 games of the season, the team's punt returners combined for just a 1.7 yards-per-return average and managed to return a punt more than 10 yards on just two occasions.
Considering that, during last year's Kansas-FIU game, the Golden Panthers punted eight times, tonight's game should provide plenty of opportunity to evaluate Patterson's performance at the position.
And if the sly suggestions of teammates are any indication, fans should brace themselves for a noteworthy premiere.
"All I have to say about Daymond Patterson," said punter Alonso Rojas, "is keep an eye out for the kid. Watch out."
If nothing else, the punt-return game should provide a noteworthy story line in a game that will pit one of the nation's best teams a season ago against one of the worst.
The Golden Panthers finished just 1-11 in 2007 and carried a 23-game losing streak - the longest in the nation - into their season finale against North Texas, which they won, 38-19.
While FIU has undergone a massive overhaul since second-year coach Mario Cristobal arrived last season (changes in recruiting, training methods and personnel are all evident), the challenge facing the team tonight has not gone unnoticed by the team's coaching staff.
Last season, the Jayhawks had one of their biggest offensive outpourings of the season against the Golden Panthers, rolling to a 55-3 victory and putting together 615 yards of total offense in the process.
"They're a machine," Cristobal said. "You'll be hard-pressed to find a better offense in the entire country. And that's taking nothing away from their defense, because they can be equally as good, and they show it more times than not."
Offensively, it is still unclear whether FIU will start Wayne Younger or Paul McCall at quarterback. Despite their differences in styles - Younger is more of a dual-threat type; McCall is a pocket passer - Cristobal feels both will be able to contribute in a revamped offense spawned by new offensive coordinator Bill Legg, formerly of Purdue.
Among the other questions facing Kansas on the eve of its most anticipated season in school history - How will red-shirt freshmen Jeff Spikes and Jeremiah Hatch fare at the two offensive tackle positions? Who will handle kicking duties in place of the graduated Scott Webb? - they should be answered, at least in part, by 10 tonight.
"It's a new season," Mangino said. "I think each team develops its own personality, its own chemistry. I contend that we have a confident team right now. But they're smart kids. They know that there's a lot of areas that we must improve in order to be the type of team that we have to be."
More like this story on KUsports.com