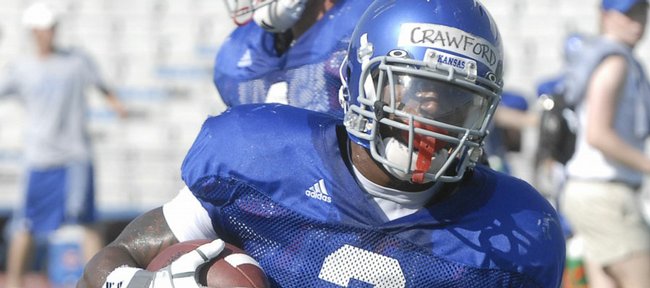 More than the sky was sunny at the Friday morning Kansas University football practice. So was the outlook for an offense that lost five key starters from a 12-1 season.
With 20 of the top 22 players returning on defense, the development of the offense will get more attention in coming weeks. Those who sunned themselves at Memorial Stadium had to be pleased with what they saw from the skill positions. And let's be honest, isn't that what most people watch?
The first thing to grab the eyes was the low-to-the-ground, slithery running style of Jocques Crawford, who makes quick cuts and has the look of a guy who instinctively knows how to make tacklers miss. Crawford and change-of-pace back Jake Sharp both will get ample carries, ensuring KU has a fresh runner on the field at all times. But the smart money says Crawford will lead the team in rushing yardage and touchdowns, softening the blow of losing Brandon McAnderson (1,125 yards, 16 touchdowns).
Watching a slightly thicker-looking Dezmon Briscoe streak down-field, extend his long arms, and catch another Todd Reesing bull's-eye in stride called to mind NFL Draft day, watching highlights of receivers analyzed by the various gurus. Briscoe has the whole package and knows how to block. Marcus Henry's 1,014 receiving yards and 10 touchdowns will be missed, but not as much as at first meets the eye. In his sophomore and junior seasons combined, when KU didn't have as productive a passing game as it did in 2007 under offensive coordinator Ed Warinner and quarterback Todd Reesing, Henry totaled 42 receptions, three touchdowns and 499 yards. In his true freshman season, Briscoe had 43 receptions, seven touchdowns and 496 yards. Henry is even faster than Briscoe, but the younger player is the more physical receiver.
Strong, sure-handed slot receiver Fields and ultra-athletic Kerry Meier showed last year how well they click with Reesing. Former quarterback and current tight end A.J. Steward, who used sharp moves to get open, looked as if he already has developed chemistry with Reesing. Daymond Patterson, a leading punt return candidate, will turn simple screen passes into big gainers during his time at KU, thanks to such quick feet. Patterson also looked terrific laying out to catch a long pass from Reesing, but couldn't hold onto what would have been the catch of the day.
College football coaches from big-time programs - yes, Kansas now qualifies - show you what they want you to see during open practices, which is to say not much. Still, watching one practice is enough to form hunches about players and the team. This group looks bigger than recent teams. Just as important, nobody stood out by slacking off and falling behind. The discipline in the program, passed down from the veterans year after year, has deep roots now.
One more encouraging sign: James McClinton, physical and spiritual leader of last year's underrated defense, has exhausted his eligibility but hasn't left the program. Seeing McClinton, who has one more semester of classes before fulfilling requirements for a degree, working as a volunteer assistant moved the karma needle to the good side.
More like this story on KUsports.com