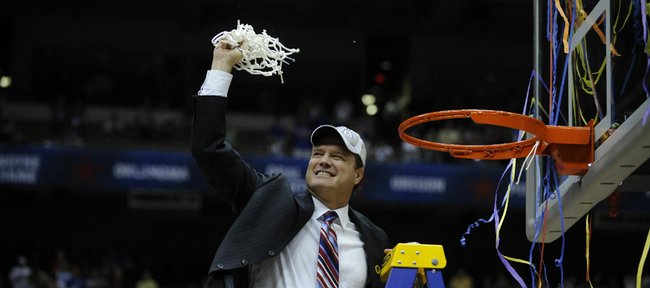 Document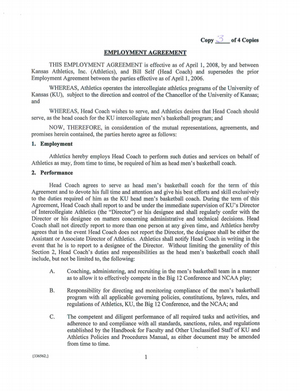 Around Division I
Contract comparisons
PREVIOUS SELF CONTRACT
Current term: April 1, 2006 to March 31, 2011.
Base salary: $229,900.
Professional Services: $1,155,700.
Retention Payment: $225,000.
Total: $1,385,600 + $225,000 = $1,610,600.
Incentives:
Final 4: $100,000.
NCAA Championship: $200,000.
Big 12 Regular Season Championship: $50,000.
Big 12 Tournament Championship: $25,000.
Associated Press Coach of the Year: $50,000.
NEW SELF CONTRACT
Term: April 1, 2008 to March 31, 2018
Base Salary: $229,900.
Professional Services: $2,270,100.
Total: $2,500,000 + $500,000 = $3,000,000.
Retention Payment: $500,000 (guaranteed after taxes) per year.
Incentives: Remain the same.
Note: Retention earned only if coach remains each year. Paid out in 5 year increments. Current retention agreement is in place until 2011. A second retention agreement on the same terms will be earned for remaining each year during the second 5 year period.
Bill Self, who has signed a new 10-year contract that will provide him a guaranteed $3 million a year through March of 2018, has one wish for the next decade.
"In my perfect world, everybody will be happy the next 10 years, that we continue to recruit good guys and we win. That's my hope. That everybody involved with KU is happy," Self said in a cell phone conversation with the Journal-World Wednesday -the day details of his newly signed contract were released to the public.
"I love KU. It's where we (he and his family) want to be," noted Self, who was completing a short vacation at Pine Valley Golf Course in New Jersey. "I felt the administration always has been fair with me since I've been here. They looked out for me when we had back-to-back losses in the first round to Bucknell and Bradley and are looking out for me (financially) after our success the last couple years."
That includes last season's national championship. After the season, Self's alma mater (Oklahoma State) came calling. KU athletic director Lew Perkins stepped to the plate and made sure Self stayed at KU. Perkins concocted a deal that will pay Self an annual salary of $229,900, unchanged from his previous contract which paid him an annual total of $1,610,600.
The compensation package also includes an annual payment of $2,270,100 for professional services, which may include educational, public relations and promotional duties as assigned by Perkins.
Such duties could include the production of any radio or television shows, Internet features or Self's occasional endorsement of products affiliated with and approved by Kansas Athletics or its marketing partners.
Additionally, the compensation package includes a tax-free retention agreement that pays Self $500,000 for each year during the contract that he serves as Kansas' head coach.
"Lew and I visited. We talked about many things," said Self, 45. "We talked about my assistant coaches, secretaries, staff, facilities, living arrangements (for athletes at soon-to-be renovated Jayhawker Towers). The last part was me," Self said.
"There were no negotiations with Lew. He asked what I thought was important. I said facilities (including new practice facility), taking care of my assistants and staff. He was telling me what he was thinking. I said, 'I think that would be fantastic.' I was hopeful of close to a 10-year deal. We talked about number of years. There was no negotiating on the dollar amount," added Self, who believes he'll "still want to continue coaching" when the deal runs out at age 55.
Perkins arrived at the $3 million figure, which could rise to $3,425,000 if Self reaches all of his contract incentives. It's believed Florida's Billy Donovan is the country's highest-paid coach at a public institution at $3.5 million a year. Duke's Mike Krzyzewski reportedly makes more than Donovan, but the private school will not release details of Coach K's pact. Texas' Rick Barnes is previously highest paid coach in the Big 12 with a salary reported at $2 million. As far as public institutions, the $30 million compensation to Self is believed to be the largest financial commitment a school has committed to a college hoops coach.
"Bill was great to work with. There were no issues at all, zero. These were two willing parties, the university and coach, and we sat down and agreed to a lot of things quickly," Perkins said. "I think the university is extremely pleased we were able to keep Bill here and we are excited about that. He has done a tremendous job here and he deserves what we are paying him."
For 10 years.
"I had no problem with it. We want him here 10 years," Perkins stressed of the length of the deal, which has no buyout clause if Self ever decides to leave KU.
Perkins said he believes the new deal makes Self one of the top-five-paid coaches in the country, but there's no way of telling for sure with so many complicated clauses and incentives in contracts. For instance, Self's deal includes benefits such as use of two automobiles, a $2 million life insurance policy, travel expenses for his wife and two children attending games outside of Lawrence, right to hold a summer camp and clinics, 10 tickets to each home game and six tickets to each away game.
"We never discussed that," Perkins said of other coaches' deals. "There are so many different ways people do it. It's complicated. Everybody has a different format. What I try to do is call around the country, people I have confidence and trust in. Our goal was not to put coach (Self) one, two or three. We wanted to pay him what we thought he deserved to be paid. There are all kinds of other ways to make income for a coach."
"Maybe I'm up there pretty high," Self acknowledged, adding the years make him most happy. "There's no reason to do a rollover (contract). My thinking is 10 years is plenty of time if people get tired of me after that they have the right to tell me to move on."
Self declined to reveal his assistants' pay, only saying of their raises: "I'd say (they are) substantial." KU has not yet released details of his assistants' contracts. The figures will not rival Kansas State's Dalonte Hill, who makes $400,000 per annum.
Self reiterated he's hoping to stay at KU a long time. He addressed rumors that the NBA might come calling.
"I have no crystal ball. I am not on anybody's short list that I am aware of. To be honest, I will not say that (NBA) will never pique my interest. Certainly not in the near future. I have too good a job here at Kansas," Self said.
KU football coach Mark Mangino recently signed an extension that will pay him $2.3 million per year through 2012.
More like this story on KUsports.com