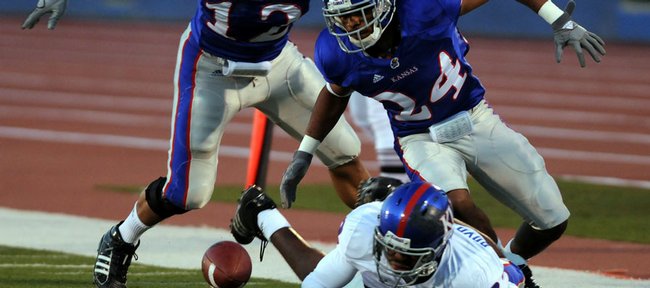 Kansas University's spring football game ended fittingly - a bullet pass by Todd Reesing down the middle of the field, right off Dezmon Briscoe's hands and to the turf.
An oopsie. One of many.
Officially, the Blue team beat the White team, 17-3, Monday at Memorial Stadium. But really, both defenses dominated both offenses the entire night. If the offense wasn't forcing itself into sloppiness, the defense pushed the offense into that smelly pit.
"I didn't think it was that pretty," said Reesing, who threw for 227 yards but had two interceptions. "We struggled with a lot of execution things, myself included. We had too many mistakes on the offensive line, too many dropped passes. Running backs didn't protect. I missed some throws. It wasn't the way you want to go out for spring ball."
Reesing, competitive and frustrated, even put his own health on the line to try to make something go right. Twice in the first half, Reesing threw ill-advised passes right into the hands of a defender. The first interceptor, Patrick Resby, was tackled by Reesing as he tried to return it for a score. The second, Drew Dudley, broke a Reesing tackle before being forced out of bounds. Reesing's helmet flew off at contact, causing a little uneasiness among the estimated 10,000 fans in attendance.
"We never went over what to do on interceptions. That's bad coaching on my part," KU coach Mark Mangino said with a smile. "After two of them, we told him, 'Number one, don't throw any interceptions, and let him run for a touchdown if you're the only guy that can tackle him. It's not that important.'"
Countered Reesing: "They didn't score."
Not those times, but one of the two touchdowns on the night was a defensive score. Right before halftime, running back Carmon Boyd-Anderson fumbled the ball near the sideline. It was scooped up by Blue team cornerback Kendrick Harper and returned 23 yards for the touchdown.
In all, the defenses were credited with a combined 20 tackles for a loss, including six sacks. And until Reesing found Dexton Fields for an eight-yard touchdown pass in the fourth quarter, the defense took credit for most of the scoreboard, too.
"The spring has been back and forth," defensive coordinator Clint Bowen said. "We had several other live scrimmages that we didn't win and the offense came out and got after us pretty good."
Still, Mangino found some bright spots in the offense - and maybe an answer to one burning question in the trenches.
While the interior of the offensive line returns from last season's 12-1 team, Kansas is trying to find replacements at each tackle position. Four guys were rotated into the Blue team lineup, and the end of the game featured Jeff Spikes at left tackle, Matt Darton at right tackle and a happy Mangino in how it looked.
"We may have found the right combination," Mangino said, "and that's something we're pleased with."
So something was found Monday, though it deserves to be stressed that the spring game was little more than just the 15th and final practice of the season. The regular season doesn't start until Aug. 30 when Kansas plays Florida International.
Until then, KU's defense will take Monday's victory - while knowing that the offense eventually will come around and fight a better fight in the future.
"It takes a while for the offense to get clicking," said KU cornerback Chris Harris, who had seven tackles and a fumble recovery. "Fifteen practices just isn't enough. When we get in the season : and everybody gets together and gets clicking again, they're going to be ready."
More like this story on KUsports.com