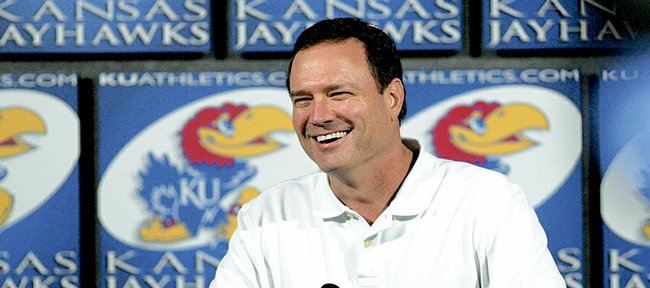 Videos
NCAA Champion Jayhawks return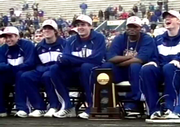 KU, the 2008 NCAA Men's Basketball Tournament champions, were greeted by fans in Topeka and then celebrated at Memorial Stadium in Lawrence. Kansas head coach Bill Self, assistant coach Danny Manning, and several Jayhawk players address the crowd.
San Antonio — The last two Kansas basketball coaches who left the school did so after coaching in an NCAA title game, Larry Brown as the winner, Roy Williams as the runner-up.
Could Bill Self make it three in a row? He could, but he hasn't sounded like a coach desirous of taking a professional step down in exchange for becoming the highest-paid college basketball coach in history.
Kansas won't compete with oil and energy trading magnate T. Boone Pickens, zero for zero. The rumored numbers Pickens is willing to pay Self are indeed staggering and would set up generations of Selfs, a factor that can't be brushed off entirely: A signing bonus of $6 million, plus $3.5 million per season for 10 seasons.
Self is a skilled enough coach and recruiter that it's not a stretch to believe he could elevate Oklahoma State to such a degree it could contend for a national title in time. It would be considerably more difficult at OSU than Kansas, but if anybody could do it, Self's the guy.
Still, there would be no way for him to spin returning to his alma mater as anything but a money grab. We all love money, the more the merrier. We would all love to be able to set up generations. Yet, at heart, Self is a son of a coach before he's anything else. He's a fiercely competitive winner who wants to do everything he can to stack the deck in his favor. That's why he recruits so relentlessly. Other than on the first and the 15th, he'll like his hand better at Kansas than at Oklahoma State.
If Self were 55, instead of 45, it would be easy to see where he would want to take an outrageous 10-year contract to set up the generations. At this point in his career, he's still building the legacy, not the bank account.
In just five years at Kansas, look at what he already has done. He has won a national title and reached the Elite Eight in two other seasons. Self's KU winning percentage is .816, which puts him ahead of Roy Williams (.805), Larry Brown (.754), and Phog Allen (.729).
He'll get a hefty raise from a man he enjoys working for, athletic director Lew Perkins, but the money won't approach what Pickens will stack up. Look for Self's salary to jump from $1.5 million to somewhere in the range of $2.5 million to slightly above that.
Perkins knows what a great coach he has and he knew that when Self's teams lost first-round games to Bucknell and Bradley in back-to-back seasons. He's smart enough to let Self do his thing.
Would Pickens, a man Self said he never has met face to face, show the same respect? When asked about Pickens on Tuesday morning, Self joked: "I didn't know he was their athletic director."
He's not, of course. Mike Holder, golf coach at OSU when Self played and was an assistant coach there, is. But if Pickens ponies up all that dough, who knows what that would mean regarding his involvement. Would he be marching corporate contacts into practice to meet his trophy coach?
Look at it this way: When Self wants to cash in and take on a new challenge, two things the Oklahoma State job would offer, it seems more likely he would do so as coach of the San Antonio Spurs after Gregg Popovich retires, or to the NBA after the Sonics move to Oklahoma City.
More like this story on KUsports.com