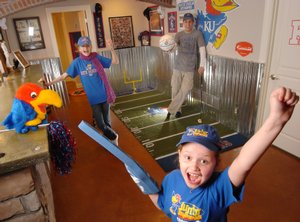 On the street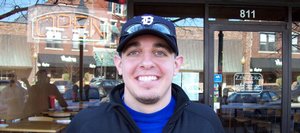 Submit your Final Four fan stuff
Do you bleed blue and crimson? We want your Final Four fan photos and stories.
Feature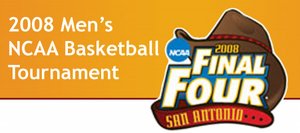 Get your March Madness fix at KUSports.com.
There isn't one Kansas University basketball fan who can precisely predict or control the outcome of Saturday's Final Four match-up against North Carolina. But that doesn't stop every fanatical fan decked out in crimson and blue from trying.
Basketball fans' numerous superstitions seem to be as old as the sports they surround and have become deeply ingrained in the world of athletics.
Whether it's sitting on the same place on the sofa, game after game - or a certain brand of chips, opened the same way, poured into the same "lucky" bowl, round after round - Lawrence psychologist Marciana Vequist tells us that deep down we are all creatures of habit.
"When something happens that we want to happen, we try to figure out what was the connection between our behavior and that outcome and so, I think, it's just kind of a natural thing that we do," she said.
Lawrence resident Todd Chapple has figured it out. After a tour of the Jayhawk lounge in his home, he discussed the importance of being in the right place come game time.
"We have a group of people that come over every week and we even have people that have their special seats," he said. "We have a guy that sits right here. One time he even moved my 9-year-old daughter out of the seat because that's his lucky seat."
Chapple and other KU enthusiasts display natural fan reactions when their superstitious habits are followed up by a negative outcome. They simply ignore the result and carry on with the others, no matter how extreme they may be.
"We all like to think they help, of course, but then we have a few years which I won't mention, like Bucknell and Bradley, that they don't work," Chapple said. '': but Sasha Kaun is a fan favorite around the lounge. My daughter even named our dog two years ago Sasha. Whenever he gets a dunk or a basket, everyone screams out 'white Russian!'"
Chapple is not alone.
For KU graduate Pat Sullivan, it's his house, his rules and he can change them on his Jayhawk putting green anytime he feels the need.
"I will sit here and putt, and if I make a putt I will say to myself, OK we're going to win, if I miss a putt, then I'll do 2 out of 3, 3 out of 4, 4 out of 5, so eventually I'll put one in so we're guaranteed a victory that way," Sullivan said.
The Jayhawks tip off against North Carolina shortly before 8 p.m. Saturday.
Rest assured that KU players, coaches and fans will join Vequist, Sullivan and Chapple with their own superstitious behaviors on Saturday - all while hoping that maybe, just maybe, their 20-year-old hat or lucky socks will ensure KU plays in Monday's championship game.
6News coverage
6News will have special live coverage Saturday night following the Kansas-North Carolina game. We will have live reports from downtown Lawrence, highlights and analysis of the game, as well as postgame coverage from San Antonio.
Be sure to watch Sunflower Broadband Channel 6 immediately following Saturday's game.
More like this story on KUsports.com