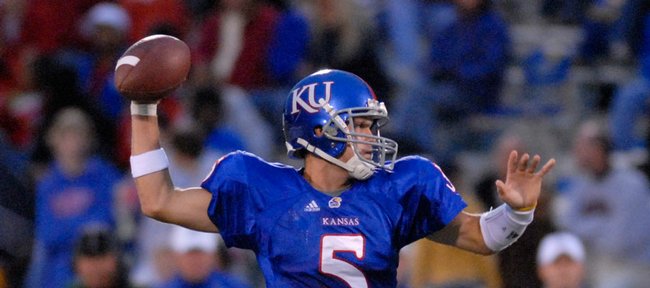 Videos
The Border War 2007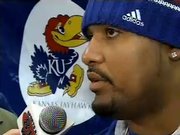 ¢ 6Sports video: Beaten but still in top 5<br /> ¢ 6News video: Fans cheer on Hawks from Lawrence<br /> ¢ 6News video: Crowds brave cold for ESPN's Gameday<br /> ¢ 6News video: Broken dreams<br />
Reader poll
QB Chase Daniel

35%

1656 votes

RB Tony Temple

1%

72 votes

TE Martin Rucker

9%

463 votes

TE Chase Coffman

6%

289 votes

Do-it-all Jeremy Maclin

44%

2045 votes

Someone else

2%

114 votes
4639 total votes.
Measuring up
A quick look at where Reesing ranks on KU's all-time TD lists:
Career TD Passes
1. David Jaynes (1971-73), 35
2. Todd Reesing (2006-present), 33
3. Frank Seurer (1980-83), 30
4. Bill Whittemore (2002-03), 29
5. Chip Hilleary (1989-92), 25;
6t. Kelly Donohoe (1986-89), 24
6t. Mike Norseth (1984-85), 24
TD Passes in a Single Season:
1. Todd Reesing, 30, 2007
2. Bill Whittemore, 18, 2003
3t. Mike Norseth, 15, 1985
3t. David Jaynes, 15, 1972
5t. Mark Williams, 14, 1995
5t. Frank Seurer, 14, 1983
5t. Dick Gilman, 14, 1948
To follow the footprints back to answer the question why the man who recommended Todd Reesing to the Kansas University athletic department did so is to go all the way back to when the quarterback was about 5 years old.
Todd's father, Steve Reesing, and Tom Stoetzner were college roommates at the University of Texas and friends before that. Stoetzner's son, Jake, alerted Kansas to Reesing after his big junior season for Lake Travis High in suburban Austin, Texas.
"Todd was a firecracker," said Jake Stoetzner, who grew up in suburban Austin, played college football for Tulsa University and now lives in Lawrence. "We had one of those trampolines in the back yard, and Todd was a hell-raiser. We'd tell him, 'Todd, you can't jump on this by yourself. Somebody's got to be out there with you.' Todd was always sneaking out there jumping on it. We were all inside, and Todd's out there jumping on it. So we said, 'Todd, what are you doing?' He goes, 'Watch this. I'm going to do a backflip.' Then he does a backflip off the trampoline and onto the grass and lands on his back. We're all thinking: 'The kid is going to be crippled.' We go up to him, and he didn't cry, didn't shed a tear. He just walked away and got right back on the trampoline. The dude is just tough. He was just a tough little dude. I knew there was something crazy about him."
Reesing's crazy confidence has helped him throw 30 touchdown passes against just four interceptions to lead Kansas to an 11-0 record heading into the Border War against Missouri on Saturday night at chilly Arrowhead Stadium.
Without the friendship between the Reesing and Stoetzner families, Kansas never would have found the quarterback who in his sophomore season is rewriting the school record books for passing.
Steve Reesing sent Jake Stoetzner a football resume and a highlight tape of his son and asked him to pass it along to his alma mater and to his father-in-law, Pat Henderson, a former Mark Mangino assistant who by then had moved into the Williams Fund to take a different position within the athletic department.
An attorney, Stoetzner is helping his wife, Kelli Henderson, get her pediatric dentistry office, Growing Smiles, which opened its doors last month, up and running smoothly before he pursues a new career path.
Henderson, one of Stoetzner's coaches at Tulsa, took the tape from his son-in-law and passed it on to one of the coaches in the football office.
"The connections might have got the ball rolling, but it was the manner in which KU recruits that got him here," said Henderson, a former linebacker at KU and a long-time college assitant coach. "They did the work and the evaluation and they pulled the trigger. The hardest thing on a guy that size is pulling the trigger and that's the head coach."
Henderson makes a solid point in giving the credit to the KU coaching staff. After all, Stoetzner didn't do anything for his father-in-law's alma mater that he didn't first do for his own.
"I'm a Tulsa guy, I've got to support my alma mater," said Stoetzner, an offensive tackle at Lake Travis High and then Tulsa. "I e-mailed them and told them "I know this kid. He went to my high school. He's killing it. He's a junior. You guys need to get on it.' Actually, Steve Kragthorpe (then the head coach at Tulsa, now doing the same job at Louisville) called me and said, "So you know this kid? You think he's a good player? OK, we'll look into it. And that's all that ever came of it.' ''
Otherwise, Reesing might have been growing smiles all over Tulsa, instead of Lawrence.
The turn-around the 5-foot-10 Reesing has helped to bring about for Kansas was not his first such football miracle. When Reesing was the quarterback of his high school's freshman team, the varsity went 0-10. After that season, a new coaching staff was brought in and with the change came the offensive coordinator's son, a talented quarterback now at Abilene Christian.
As a sophomore, Todd Reesing was an all-district receiver, his brother Kyle an all-district defensive back. (Kyle now is Purdue University's second baseman. Their sister Megan, a junior at Lake Travis High, hopes to attract the attention of the KU volleyball program, Steve Reesing said.)
The football team improved to 3-7 under the new coaching staff. In Reesing's two seasons at quarterback, Lake Travis went 8-3 and then 11-1, losing 48-44 in the state playoffs. After his junior season, in which he threw for 3,126 yards and 29 touchdowns, Reesing was named Class 4A Player of the Year in Texas.
"What blew me away was here's this kid putting up huge numbers against good competition and you're telling me none of the Texas schools are going to look at him?" Stoetzner said. "To me, that was insane. The kid was just a winner."
Todd, who came to KU for the spring semester of 2006, said Kansas State's Bill Snyder offered him a scholarship, but after his departure, the offer vanished. Duke and KU also offered and that was it, Reesing said.
As a senior at Lake Travis, Reesing threw for 3,343 yards and 41 touchdowns and was intercepted just five times. In other words, combining his last season of high school ball and his first season as a starter in college, Reesing has 71 touchdown passes, nine interceptions and a 22-1 record.
Reesing plays with such confidence and seems forever eager to prove he can surpass expectations. His brother Kyle, two years his senior, theorized that quality originated from playing with him and his friends, who were older and bigger.
"We were always real close and really competitive with each other," Kyle said. "Playing hard-core backyard football and hard-core basketball with older kids, he had something to prove, he wanted to show he could hang with us and he always did. I think that gave him confidence."
Reesing has shown an amazing ability to rally the offense quickly on the rare occasions KU trails in a game. Kansas has trailed six times in 11 games this season and has either tied the score or gone ahead on its next possession five of the six times. That requires quick thinking and actions under pressure. Maybe Reesing inherited that from his father, Steve.
Stoetzner related a story of how the Reesings, Steve, Kyle and Todd, "burned down half our yard" one Fourth of July while waiting for the Stoetzners to get back from a fireworks show. Steve laughed when reminded of that story.
"That was a good one," said Steve, who with wife Debi has attended every KU football game this season. "Their house backed up to a golf course. We were living in Austin at the time and couldn't shoot out fireworks in the city of Austin. We figured it was OK to do it there in the middle of the fairway at night. We had one go wrong and it hit the brush and trees. You talk about igniting quickly, you wouldn't believe it. I started thinking I was about to burn an entire neighborhood out. We had no access to water, so we were all running toward the fire, stomping it out with our shoes. Todd was probably around 8 then."
Daring, cool under pressure, came out just fine in the end.
"It's weird for me to see Todd's progression from a little kid, to now," Stoetzner said. "Wow! He's a man now."
More like this story on KUsports.com