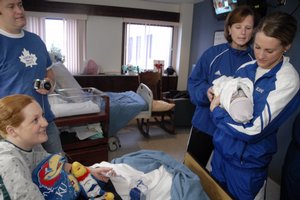 Only 24 hours after he was born at Lawrence Memorial Hospital, Finn Nelson found himself surrounded by the Kansas University women's basketball team.
While he comes from a family of Wisconsin Badgers, his crib on Tuesday was full of Jayhawk mementos and a stuffed animal given to him by the team.
Finn's parents, Ben and Heidi Nelson, said they are slowly being converted to Jayhawk fans. Ben, a KU graduate student, said the visit from the KU team helped speed that process along.
"We told them that whatever (Finn) saw first he was going to be, and he saw the Jayhawk first," junior guard Katie Smith said.
Finn, who was born at 9:15 a.m. Monday, slept through most of the visit. His room was the first stop made by the team in their annual visit to patients at LMH.
"It's really nice being able to give back to the community a little bit and hopefully meet some people and fans," Smith said.
The hospital visit was started 15 years ago under former coach Marian Washington and Paul Vander Tuig, trademark licensing director for KU athletics. The tradition has continued under coach Bonnie Henrickson.
"It gives us a chance to spread some holiday cheer and also just be a reminder of how fortunate we all are to have our health," Henrickson said. "They look forward to it and the first thing they want to do is hold the baby."
Each year Vander Tuig asks vendors licensed to use KU and Jayhawk symbols on their sports memorabilia to send him a couple of their products.
Some are given away by the women's team at the hospital the day of the visit and others are donated to similar community projects, he said.
"The women's basketball team has really taken ownership of the (hospital) project," Vander Tuig said. "They've been involved since the beginning."
Ben Nelson thinks Finn - who is starting life with a height of 20.5 inches after being born a week early - is a potential basketball player.
"He's going to be tall," Ben Nelson said. "He might be too tall for hockey."