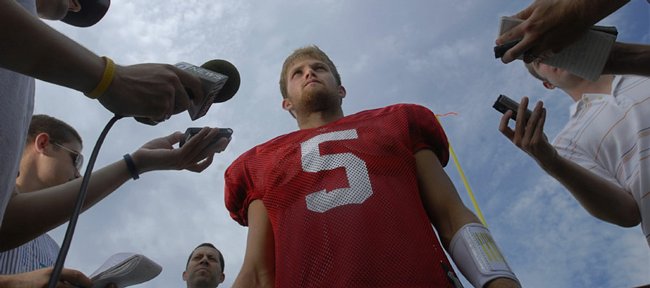 Todd Reesing had to have seen it coming.
But the Kansas University sophomore didn't get the official word until Saturday morning, when offensive coordinator Ed Warinner told Reesing he would be the football team's starting quarterback.
"Obviously, that's pretty exciting to hear that and find out two weeks before the first game," Reesing said after practice Saturday. "I came out today excited to get out and get to work. It's a good feeling."
KU head coach Mark Mangino officially announced that Reesing beat sophomore incumbent Kerry Meier in a competition that has lingered since the offseason began. By all accounts, the race was close going into the preseason camp, but Reesing pulled away and made the decision an easy one for Mangino and Warinner to make.
"We've known for a while here, but we wanted to wait," Mangino said. "We decided about two weeks out we'd make a public comment on it."
Reesing has worked exclusively with the first team this whole week while Meier, it was revealed, had been hobbled by a "nagging" leg injury.
"But that doesn't detract from the job that Todd has done," Mangino said. "The job was won because Todd was the best quarterback and earned that position."
Reesing will lead an offense undergoing a minor face lift with Warinner in his first year as the Jayhawks' offensive coordinator. Though Mangino insisted that both quarterbacks can thrive in KU's system, Reesing said he's especially comfortable in it because it's similar to the offense he ran to huge success during his high school days in Austin, Texas.
"I think it's more similar what we're doing this year than last year," Reesing said. "With the offense we have, it allows me to use the skills I have and play to that and : try not to make the offense do something it can't do.
"Because of that, we can do a lot of things by rolling out, spreading the defense out and throwing the ball, which I did a lot in high school. It's a lot more relaxing and natural to me."
Reesing played in three games as a true freshman last season, sparking a come-from-behind victory over Colorado before playing sparingly in games against Iowa State and Missouri. He attempted just 24 passes on the year and completed 14, throwing three touchdowns and three interceptions.
At 6-foot-3, Meier is much bigger than the 5-11 Reesing and has noticeably more speed. But Reesing has carved his niche in the passing game and proved a dangerous thrower even when flushed out of the pocket. That sort of improvising may come in handy in KU's offense, particularly if an aerial attack becomes more of a go-to method to move the chains.
"Reesing came out of the blocks ready to go," Mangino said. "He had a great deal of retention from last spring. He showed good presence in the pocket. He handled the huddle very well, he's thrown the ball well, he's managing the game very well. He's just a guy that went out and won the job."
Mangino stressed more than once that nobody has lost faith in Meier, calling the competition "at a high level."
But all along, KU's sixth-year coach wanted one quarterback to take control of the race in time to prepare for the Sept. 1 season opener against Central Michigan.
That's exactly how it will go down.
"Reesing earned that spot," Mangino said. "You've got to earn it around here, and he did it."
More like this story on KUsports.com