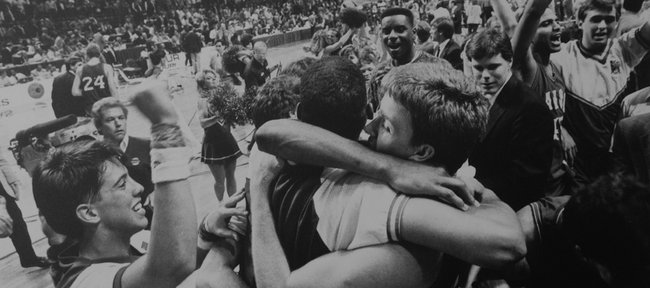 Kansas City, Mo. — Seems Danny Manning, basketball-player deluxe, is also a poet. And not a bad one at that.
Get a load of the verse Kansas' 6-10 senior recited moments after the Jayhawks' resounding 83-79 national championship -- sounds sweet, doesn't it? -- victory over Oklahoma on Monday night at Kemper Arena:
"To all the people who said it couldn't be done ... we're national champions, we're No. 1 ... how do you like us now?" bellowed Manning, who somehow mustered the energy to create rhyme, following his one-for-the-ages 31-point, career-high 18-rebound effort.
The All-American "was phenomenal, just spectacular," said Kansas coach Larry Brown, whose use of a patient offense the final 12 minutes, coupled with a fast-breaking style that built a 50-50 halftime deadlock, baffled the favored Sooners.
Brown's differing syles of play, coupled with mass substitutions (KU used nine players to OU's six) and the play of Manning launched 27-11 Kansas to its second-ever NCAA crown and its first since 1952.
"Danny was a skinny kid the last time we played in the Final Four," said Brown, referring to 1986, when KU fell to Duke in the semifinals. "He was a man tonight."
Manning was, in fact, the Jayhawks' Rock of Gibraltar late, swishing four consecutive, pressure-packed free throws.
At :14, Manning converted two charities, upping a 79-77 lead to four tallies. After a Ricky Grace lay in at :07, Manning was fouled accepting an inbounds pass.
He calmly iced two more at :05, salting the victory -- KU's first in three outings against the Big Eight champs.
Manning's free throws followed a shaky start in which the Jayhawks cashed just one of five charities. Those woes at the line helped OU slice a 77-71 lead to one, 78-77.
Considering the bricks, it might be interesting to note what Manning was thinking as he toed the line late:
"That it's over. It's over," the confident player said.
Manning had one thing in mind -- proving the so-called experts wrong. Unranked at the end of the season, Kansas stormed to six straight wins in the NCAA tourney.
"Pleople said we were lucky. This wasn't a gift. What's luck? It's preparation and opportunity," Manning said.
Try as the two teams might, neither quite was able to blow this one open. KU's biggest lead was six points the first half; OU's five with 12:14 left.
Chris Piper cashed a 14-footer and, following a turnover, Manning hit a jumper and free throw, tying the score at 65 at 11:13.
"We didn't panic when we were five down," said Brown. "Our kids believed we could beat them. There's a sense of pride, confidence in our club."
That showed during the guts of the game.
Tied 71-71, Kansas, while milking the shot clock on each possession, rattled off six straight points.
Sophomore guard Kevin Pritchard, who scored 13 points on six of seven shooting, first hit a lean-in six footer. Manning then drove into the lane and iced a five-fotter that bounded high before dropping.
Piper concluded the run by cashing a corner shot just as the shot clock ran down.
KU's bad stretch of free-throwing, plus a couple ill-advised jumpers by Manning, enabled Oklahoma to cut the gap to 78-77 and set the stage for Danny's late free-throw heroics.
"I drove the baseline a couple times and shot off the glass. I missed each time," said Manning. "Coach said, 'Slow down, slow down,' My teammates helped calm me down."
Manning's teammates did more than talk.
Milt Newton scored 15 points on six of six shooting. He hit two of two three-pointers, keeping KU in pace with OU's Dave Sieger, who made seven of 13 bonus shots, six of eight the first half.
Piper added eight points and seven rebounds; Clint Normore seven points and four assists.
There were oh, so many heroes, including Scooter Barry, whose sole point -- a free throw at :16 -- upped a 78-77 lead to two points.
In all, an historic evening. No team -- until KU -- had ever won a title with 11 losses. Quite an accomplishment for KU coach Brown, who celebrated his first NCAA crown.
He directed UCLA to a runner-up finish in 1980.
"I didn't know what was happening until Danny hit those last free throws and Alvin (Gentry, assistant) said, 'Coach, we're national champions,'" Brown said.
"I had this funny feeling it'd be close and something would happen to prevent us from winning. After Alvin said that, I got this rush. I can't imagine anybody having a high like I have now.
"This was an upset. They have the finest team in the country. I didn't see anybody picking us."
Somebody suggested Brown turned in a masterpiece coaching job, considering the fifth-year Jayhawk coach went to the possession offense the final 12 minutes.
"That's flattering," he said. "But I didn't play. I didn't score. We wanted a slower tempo the first half, but the kids wouldn't listen. When it was 50-50 at halftime and we were shooting 70 percent (actually 71, KU finished at 63.6 percent to OU's 42.9), I thought we were in trouble. Finally we got the tempo to where we wanted it. We used the clock.
"I kept telling the kids, 'If we get it to the last five minutes, we have a chance,' That's because we have the best player I've been associated with and that he'd lead us."
Manning didn't disappoint.
"Coach Smith has done this, coach Iba, coach McGuire," said Brown, referring to some of those he respects deeply. "It means a lot to me.
"I've never allowed myslef to enjoy success. I've always been worried about little things. But in January, I was walking with a guy who said, 'Someday you've gotta stop and smell the roses.' I finally got the message. I want to enjoy this with the players and coaches. We're awfully proud. Nothing tops this."
Box Score
KU 50 33 - 83
OU 50 29 - 79
Kansas: Milt Newton 6-6 1-2 15, Chris Piper 4-6 0-0 8, Danny Manning 13-24 5-7 31, Kevin Pritchard 6-7 0-0 13, Jeff Gueldner 1-2 0-0 2, Scooter Barry 0-2 1-2 1, Clint Normore 3-3 0-1 7, Keith Harris 1-1 0-0 2, Lincoln Minor 1-4 2-2 4, Mike Maddox 0-0 0-0 0, Team 35-55 9-14 83.
Three-point goals: 4-6 (Newton 2-2, Pritchard 1-1, Normore 1-1, Manning 0-1, Gueldner 0-1). Assists: 17 (Pritchard 4, Normore 4, Piper 2, Manning 2, Barry 2, Newton, Gueldner, Minor). Turnovers: 23 (Piper 5, Pritchard 5, Manning 4, Harris 4, Barry 2, Normore 2, Minor). Blocked shots: 4 (Newton 2, Manning 2). Steals: 11 (Manning 5, Piper 3, Gueldner, Minor).
Oklahoma: Harvey Grant 6-14 2-3 14, Dave Sieger 7-15 1-2 22, Stacey King 7-14 3-3 17, Mookie Blaylock 6-13 0-1 14, Ricky Grace 4-14 3-4 12, Terrance Mullins 0-0 0-0 0, Team 30-70 9-13 79.
Three-point goals: 10-24 (Sieger 7-13, Blaylock 2-4, Grace 1-7). Assists: 19 (Grace 7, Sieger 7, Blaylock 4, Grant). Turnovers: 15 (Sieger 6, King 3, Grace 3, Mullins 1). Blocked shots: 3 (King 2, Grant). Steals: 13 (Blaylock 7, Sieger 3, Grant, King, Grace).
More like this story on KUsports.com