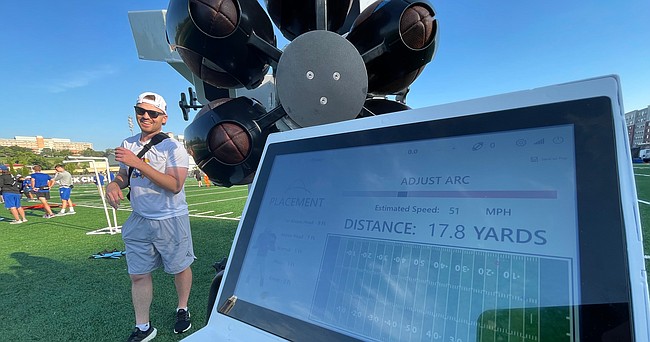 It looks more like a part of the moon landing than something you find on a football field, and it's the latest piece of cutting-edge equipment the Kansas football program is utilizing to try to improve.
They call it the Seeker, and it's dubbed the world's first robotic quarterback, kicker and punter. It has not completely replaced the old Jugs machines that have been a staple at football practices for decades. But it certainly increases what coaches and players can get done with practice reps for receivers, defensive backs and on special teams.
Initially developed by Monarc Sport during the start of the COVID pandemic as a way for athletes to continue to train when the sports world was shut down, KU first discovered the product at a camp at SMU about a year ago. From there, they went through an online demo and checked into getting one on campus.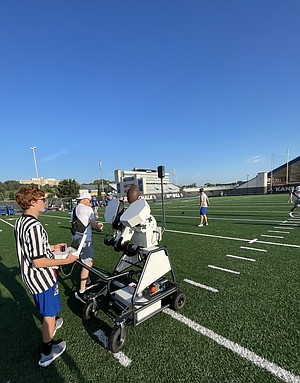 They're not cheap. The machine that is being utilized by 8-10 universities across the country reportedly had an initial price tag of $38,000. Reports have indicated that today's models cost as much as $50,000, and that number is expected to increase as Monarc continues to fine-tune and improve the product.
According to ESPN's Rob Demovsky, the Green Bay Packers, just this month, became the first NFL team to use the Seeker, and a dozen or so NFL players have purchased one for their personal use.
KU is leasing its Seeker, and second-year Kansas coach Lance Leipold said getting the OK to bring it in was easy.
"There was no hesitation from our administration when we looked into getting one," Leipold told the Journal-World. "It was really just a matter of where we were going to make it work in our budget."
Added KU Athletic Director Travis Goff: "I didn't even know we bought the machine. And I still couldn't tell you how much it costs. I don't care. If Lance and that program needs that equipment to either make a statement that hey, Kansas is going to be on the forefront, or because it's helping our guys get better, I trust the heck out of him."
In a practice environment often broken down by 1-minute increments, Leipold said the efficiency of the machine and how it allows players on both sides of the ball to maximize reps in a short period of time was by far the biggest advantage of having the Seeker.
"I bet we've tripled what we're able to do in terms of our receivers getting reps and catches from what we did in the past," KU offensive coordinator Andy Kotelnicki recently told the Journal-World.
KU tracks all of its reps during kick return periods at practice, and the coaching staff believes the Jayhawks have been able to get in four times as many returns in the same time frame as they did before.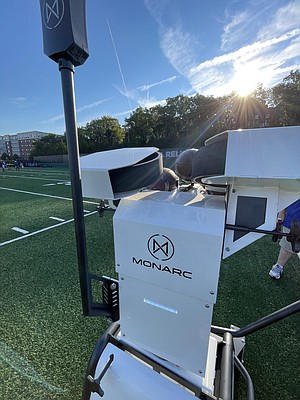 Fully automated with a six-football magazine, and powered by its own generator, the Seeker is connected to what's essentially an iPad that allows players and coaches to dial in specific requests for their reps. Direction, speed, style and distance are all easily programable.
For example, if KU were preparing to face a punter whose average hangtime is 4.3 seconds and average distance is 42 yards per punt, the coaches and equipment managers would be able to program those exact numbers into the Seeker and KU's returners could spend the entire week fielding punts that are almost exactly what they can expect to see in that week's game.
The same goes for the wide receivers. They can input that they're on the 5-yard line and want to run a 12-yard out pattern by simply placing their finger on an exact spot on the digital field on the screen. From there, the Seeker throws to that spot with terrific accuracy and without losing velocity or tiring. With just the slide of their finger, players also can adjust the loft and velocity.
"I've never seen anything like it," KU quarterback Jason Bean said. "They were throwing routes to the receivers the other day and I didn't know what was going on. I thought somebody threw the ball and I looked over and it was the machine. I think that's a big help for the receivers, and I know they're excited about it."
That's putting it mildly.
"This is next level," KU receiver Trevor Wilson said. "I think it's a big step in our program. You know, quarterbacks get tired. But we can get that machine in here and get a whole bunch of catches in a short amount of time, like 10 catches in 20 seconds. We usually have a long line of guys waiting to attack it and get their catches in after practice."
Tanaka Scott, a 6-foot-4, redshirt freshman from Mobile, Alabama, is one of them. During recent practices, Scott said he had utilized the Seeker to throw him jump balls 60 yards down the field.
For each session, and even each throw if desired, players also can program in the general area they want the ball to be delivered — right in the chest, high above their head, low to the ground and more.
Seth Holiday, KU's assistant equipment manager, has become sort of the operational guru of the Seeker. While many Jayhawks' first encounter with the machine led to blank stares and head scratches, Holiday quickly got up to speed on how to program everything a player could want in mere seconds.

"It's not terrible," Holiday said. "t's actually pretty user friendly and it's a lot of fun. It definitely keeps us busy."
Players like Scott and Wilson don't even need anyone else with them to get their reps. The Seeker also comes equipped with a remote, known as the Pulse, that players can wear on their hip while training.
By simply pressing a button, they can trigger balls their way until it's time to go reload the machine after six reps. The Seeker, which stands around six feet tall, also has indicator lights on the front so the receivers and returners know when the ball is about to be delivered.
"We saw the value of it right away," Kotelnicki said. "The best part is the number of reps and the variance of velocity and variety of the balls it can shoot out. It's been great to have and I think it just illustrates what we're willing to do to develop our players."
Leipold agreed and said the benefit of having it will only increase as the weeks go by.
"I think we're going to see its truest value in January through July," he said.