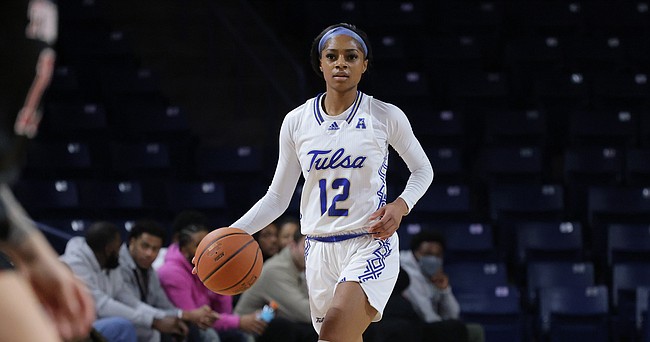 Wyvette Mayberry was speaking with Holly Kersgieter during her recruiting visit to Kansas over the weekend when their conversation suddenly turned candid.
Mayberry had played in youth basketball leagues with Kersgieter, the Jayhawks' leading scorer last season, and they were discussing how Mayberry would fit in an offense that likes to increase the tempo, attack in transition and play sound defense.
"Just knowing me and knowing my game, she was like, 'I just know that this would be a good fit for you,'" Mayberry said.
She agreed. Shortly thereafter, Mayberry, Tulsa's leading scorer last season, decided to end her recruitment and transfer to Kansas, where she will be a junior and immediately eligible to play in the fall.
A 5-foot-7 point guard who graduated from Booker T. Washington High in Tulsa, Oklahoma, Mayberry said she heard from "a lot" of schools once she decided to transfer a month ago. She chose Kansas' offer over those from Kansas State, Oklahoma State, Cincinnati and NC State, which was a No. 1 seed in the NCAA Tournament last month.
Given that her recruitment out of high school was rocky — she signed with UT-Arlington, then decided upon Tulsa a week before the school year began after coach Krista Gerlich was hired by Texas Tech — Mayberry wanted to end her recruitment as fast as possible this time.
"I did not want to (drag) this process on for any longer than it had to be," Mayberry said.
She averaged 14.1 points, four rebounds and 2.9 assists in 33.3 minutes per game last season, when she was selected to the American Athletic Conference's second team. She scored at least 20 points in five games, including two in which she scored a career-high 24, and she made 43 of her 100 3-point attempts.
Kansas coach Brandon Schneider said a week after the season ended that he wanted to add an experienced point guard who can step in for starter Zakiyah Franklin, who will be a senior.
In Mayberry, he has seemingly found that player.
"Going into this offseason, we had a very specific need that we looked to address in our recruiting efforts and that was finding a combo guard who could play some point guard, but also play off the ball a little bit," Schneider said in a statement issued Tuesday by the university. "We really feel like we hit a home run in addressing that need with Wyvette Mayberry."
Mayberry will be the Jayhawks' third newcomer next season. She'll join a pair of high school graduates in Bella Swedlund, a 5-foot-8 guard from Winner, South Dakota, and Zsofia Telegdy, a 6-foot-3 forward from Hungary by way of Sharpsburg, Georgia.
She will fill the scholarship that opened once guard Aniya Thomas decided late last month to transfer.
Thomas, who started for much of her four years with the Jayhawks, will use the fifth year of eligibility granted to her by the NCAA at the start of the COVID-19 pandemic to play elsewhere. She has not yet decided upon a school.
Kansas ranked 23rd in pace of play last season with 74.8 possessions per 40 minutes, according to Her Hoop Stats, and Mayberry said that style of play — what she discussed with Kersgieter — suits her ideal playing style.
"I love transition, getting up and down the court," Mayberry said. "I like to shoot the 3, get to the rim. I mean, yeah, mostly, I would describe myself as playing fast."
Mayberry joined her sister Maya at Tulsa for the 2020-21 season, when she was named to the AAC's all-freshman team after she averaged 12.3 points and 3.5 rebounds per game. Last season, the Golden Hurricane went 17-11, finished eighth in the AAC and lost in the first round of the WNIT under first-year coach Angie Nelp.
"I just felt like the coaching staff that's there isn't the coaching staff that initially recruited me," Mayberry said. "They just came in this year, and I just didn't feel like the program was the right fit for me."
Mayberry is hoping she found that at Kansas, which she described as "family-oriented." She said she heard from Schneider and all three of his assistant coaches over the past month, and in discussions with Schneider, she learned she was the type of player he was seeking.
In addition to Maya, Mayberry's oldest sister, Taleya, played at Tulsa from 2009-13, and another sister, Kaylan, played at Oral Roberts from 2013-17. Their father, Lee Mayberry, helped lead Arkansas to the Final Four in 1990 under coach Nolan Richardson and played seven seasons in the NBA after being drafted in the first round in 1992 by the Milwaukee Bucks.
"She comes from a very accomplished basketball family, following in the footsteps of her sisters, who we have competed against on many occasions," Schneider said. "Wyvette has developed into a very talented two-way player who will be an outstanding contributor for us at both ends of the floor. Our staff is excited to see the impact Wyvette can make on our program."
The Jayhawks finished 21-10 last season, including 11-7 in the Big 12, and reached the NCAA Tournament for the first time in nine years. They won their first-round game against Georgia Tech before falling to Stanford, which reached the Final Four.
Mayberry said she took note of that postseason run and thinks she can help them make another next season.
"I just feel like it was the right fit for me, from the coaches to the players," Mayberry said. "I mean, it just felt like family, and also, the program is on its way to doing something very special."