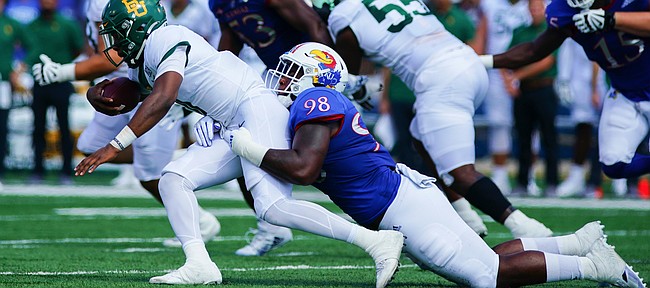 As the Kansas football team moves past its nonconference schedule and into the awaiting Big 12 gauntlet, the defense's lack of sack production is among the coaching staff's assorted concerns.
The Jayhawks (1-3 overall, 0-1 Big 12) went sackless in each of their last two losses and are averaging only 0.5 sacks per game — ranking them 127th out of 130 FBS teams — through four weeks.
"We've got to do a better job getting to the quarterback," head coach Lance Leipold said. "And then when we're there, making the play."
As both Leipold and his longtime defensive coordinator, Brian Borland, explained this week, ahead of KU's Saturday road game at Iowa State (6 p.m., FOX Sports 1), a number of factors go into pressuring opposing QBs. If the defensive line isn't winning one-on-one battles up front to get into the backfield and create disruption, then bringing some form of a blitz is always an option. However, if the blitz is ineffective, that leaves other KU defenders vulnerable.
One such instance happened in KU's loss at Duke this past weekend early in the third quarter, before the Blue Devils took control. Linebacker Gavin Potter missed a golden sack opportunity and the play turned into a gain of 50-plus yards, setting up a go-ahead touchdown for Duke.
"We're trying to get a feel for what's going to work best for us," Borland said of how and when KU will blitz. "In my mind it's always better if you can get pressure with just a standard rush and be able to play coverage. We haven't always been able to do that."
The KU defense last recorded a sack in the third quarter of its Week 2 loss at Coastal Carolina, when defensive ends Malcolm Lee and Kyron Johnson converged on Grayson McCall to take the QB down.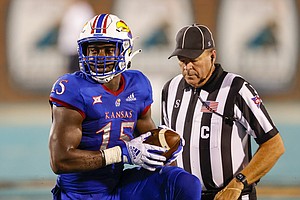 Since then — especially at Duke, Borland pointed out — the Jayhawks have seen a lot of quick screens and throws, which also impact whether any pressure is possible. Plus, KU has been playing from behind in the second halves, so opponents are less likely to "drop back and chuck it around," as the D.C. put it.
Thus far, Borland said he has leaned "a little more conservative" by relying on KU's pass-rushers on the D-line to try to get to the QB as opposed to "exposing ourselves in coverage" too often with blitzes.
"I'm not afraid to bring pressure, but then you've got to get there, because you can only hold up in coverage for so long," Borland added.
With just two sacks on the season — 1.5 from super-senior Johnson and 0.5 from senior Lee — for the entire defense entering Week 5, members of the D-line know the lack of production needs to change.
Said redshirt freshman Caleb Taylor: "As a unit we — even without any pressure from the coaches — just feel like we need to get better. There's a lot of things that we can improve on and a lot of little things that will get us to where we want to be."
Asked to identify the players KU needs to have creating sacks, pressures and hurries, Borland said Johnson remains "for sure" the Jayhawks' best pass-rusher. Borland and the coaches want to find ways to allow Johnson "to do his thing."
The D.C. also considers Lee capable of disrupting QBs from the other D-end spot. On the interior, Borland said senior Ron McGee possesses some speed and pass-rushing ability, too.
To create more consistent pressure, Borland said the coaches need to allow their best pass-rushers on the edges to "tee off."
"If Kyron's going to be able to rush the way that he wants, then obviously somebody on the inside is going to have to be able to — if the quarterback flushes, we've got to get to him," Borland said, adding that is part of the plan, because the staff understands Johnson is the team's "most elite pass-rusher."
As the defensive linemen continue to work toward improving, Taylor said he doesn't think effort has been a problem — and Leipold has said as much about the defense as a whole.
"I don't think anybody's out there just existing or not trying to get there," Taylor said.
Getting to the QB to apply pressure, Taylor added, is of the utmost importance to the D-linemen.
"The back end helps us with a lot, and we have to help them with a lot," Taylor said. "I just think overall with the defense we feed off of each other, we help each other out. For the back end to be more successful, we have to be successful."
Leipold also thinks the linebackers are getting more confident with blitz assignments as the defense continues to develop in Borland's system.
Pressure situations are hard to simulate during practices, Leipold explained, because the players aren't going through full-contact, game situations. So the Jayhawks could bring more pressure in the future if the linebackers get more comfortable and stay disciplined in their blitz gaps.
"I anticipate it getting better here as we move through the month of October," Leipold said of the KU defense's ability to get into the backfield and make things more difficult for QBs.