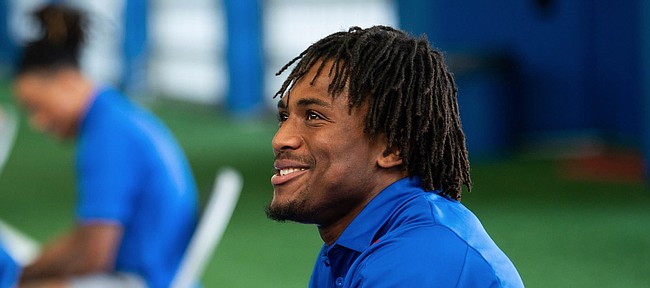 Trevor Wilson gave the Kansas football offense a much-needed boost at Duke this past weekend, with his five receptions and 122 receiving yards. But there was one catch in particular that Wilson and everyone around the program will remember for a long time.
On a bomb from quarterback Jason Bean late in the second quarter, a Wilson reception looked unlikely before the redshirt sophomore wideout reached around his defender and kept contact with the ball just enough to secure it as he was brought down to the ground.
The incredible grab by the 5-foot-11, 200-pound receiver picked up 42 yards, set KU up for a touchdown and landed Wilson at No. 2 on SportsCenter's Top 10 plays for the day.
Ahead of KU's trip to Iowa State on Saturday (6 p.m., FOX Sports 1), Wilson, in his first season at KU after transferring from Buffalo, discussed his eye-popping play and what he hopes to give the Jayhawks the rest of the season.
Q: That highlight catch you made, where you had to wrestle the ball away in the air, ended up giving you a lot of recognition on SportsCenter and social media. Any surprises in the aftermath, with messages, phone calls and people reaching out?
A: "The biggest surprise: my uncle texted me once I got on the bus and just let me know that's probably one of the greatest catches of my career. That's something that's been my focus. I'm a shoulder receiver. So they want to see guys like me go up and get the ball. That's what I did with it."
Q: Were you expecting that type of response just because of how difficult it was to bring in that catch and make a big play downfield?
A: "Not really. I wasn't really worried about it. Just happy I made a play for my team."
Q: Have you ever had a catch like that before?
A: "Maybe a while back, yeah. But that (one at Duke) was a different one."
Q: The one a while back, was that in college, high school?
A: "High school."
Q: What do you remember about that one?
A: "Just having strong hands. Grabbed the ball. And I actually had two defenders on me, just punching at the ball, and I didn't drop it."
Q: What was the most difficult part of that whole process? Was it the hands part, the concentration, trying to find the ball?
A: "The hardest part was just having a feel for it. You've got to know where the ball's moving. Just have strong hands."
Q: When you have that type of standout play as well as a really productive game individually like you had at Duke, do you feel like that can maybe help you going forward to play at an even higher level?
A: "Yessir. It's something I have to keep stacking — not just this game, but have another game just like it. Just basically help my team. You know, whatever I can do to help my team, that's the main focus. I'd like to build more games just like that."