Long before the trophies are handed out or a single statistic is recorded, Late Night in the Phog always ushers in a new season of Kansas basketball.
But this year, after the pandemic forced KU to host a virtual Late Night in 2020, the Jayhawks are looking forward to welcoming their fans back to Allen Fieldhouse for the annual season-opening party.
"We may be the first team in America to have the opportunity to feel what it's supposed to feel like," KU coach Bill Self said this week. "It's time for us to have some fun."
Back at full capacity after a season spent playing in front of a mostly empty Allen Fieldhouse, the Jayhawks themselves are looking forward to feeling the energy and juice of the old building again on Friday night.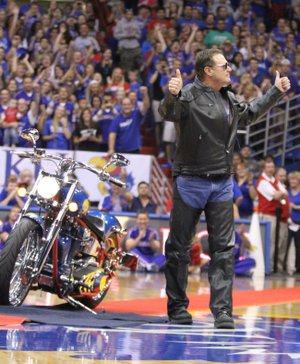 But KU senior David McCormack, who has participated in three Late Nights, and been a spectator at another, said he was just as excited for his teammates who haven't experienced the rush of Late Night as he was for himself and the other KU veterans.
"In the locker room, we're telling newcomers and the young guys stories of how this happened or how this person came out for their intro and this dance, and they're just thinking, 'OK, well I've never experienced this,'" McCormack said Wednesday. "Just to share that excitement for it is what really makes it special."
Added KU walk-on Chris Teahan, who is set to participate in his fifth Late Night: "There's just always something about Late Night every single year that gets you going."
Teahan said his first Late Night came in 2008, at age 10, just after the Jayhawks had won their most recent national championship. His brother, Conner, was on that team, and it was then, he said, that he realized that Kansas basketball was "the real deal."
The importance of this year's event goes well beyond the current team and its adoring fans getting fired up for another season. The fact that Kansas is loaded with talent and projected as a top-3 team by most major outlets adds to the buzz surrounding this year's event.
And, yeah, legendary hip-hop group Run-DMC will perform with Hollywood star Rob Riggle hosting.
But Self said this week that he hopes Late Night still carries the kind of weight as a recruiting tool that it has in the past. Prospects have committed to Kansas on the spot, or the next day, simply because of their experience at Late Night. And so many past Jayhawks, after signing with KU, made note of the role the welcome-back party played in their decisions.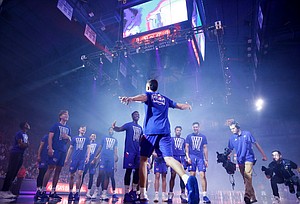 So for the current roster, the coaches, the recruits and the fans, Self is thrilled that KU is able to host a full-scale Late Night again for the first time since 2019.
"CB's class (and older) is the only class that has seen what Kansas basketball's about," Self said of KU junior Christian Braun. "Nobody did last year. There was no Late Night. There were no fans in attendance. And then the kids that you recruited, none of them visited because you couldn't visit during COVID. They all came based on their feel for Zoom calls or whatever. So nobody has felt that energy yet, except the guys that have been here for more than two years. So I'm actually excited for them to feel that."
While the KU wins and big moments that came last year were still fun in their own right, Self said they lacked something given the empty arenas and COVID challenges that dominated the season.
So taking this first step back to the good ol' days has him more than a little excited, even if he is still thinking cautiously.
"We can put 16,000 in here," he said of a full Allen Fieldhouse. "We'll be masked up, but masked up in a (way) that we can actually go be social and enjoy each other and have some fun. Sounds like something that we've been missing out for a while — for 18 months or whatever — so I hope people are excited about that."
Added Teahan: "It feels like we're more back to normal. All of us are vaccinated, so we don't have to do the testing and stuff, which is kind of a big thing. I haven't seen anybody in the stadium yet, so I can't really say we're fully back, but I'm sure as soon as that "Dream On" video plays on Friday that we'll all sit there like, 'Yeah, it's as normal as we can get right now.'"
Late Night is slated for a 6:30 p.m. start. It will feature video skits, scrimmages by the KU women and men and other sideshows and antics that celebrate the start of another season.
Doors will open at 4:30 p.m. for students and 5 p.m. for the general public. Admission is free and fans are encouraged to bring non-perishable donations for Just Food of Douglas County.
For those who cannot attend, Late Night will be shown on Big 12 Now via ESPN+ and also available on Kansas Athletics' cable partners, including Midco, Spectrum Sports and Cox.