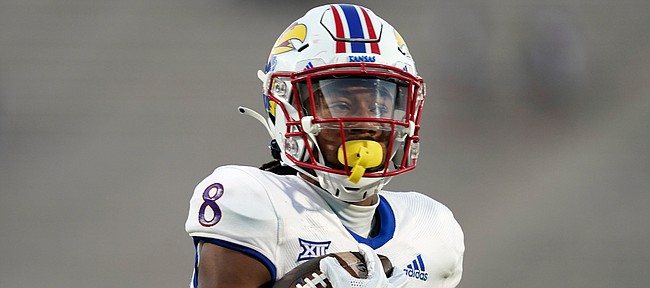 Head coach Lance Leipold will be the first to tell you his mind wasn't on his Kansas football team's offensive successes, such as the Jayhawks' season-high 530 yards and 7.4 yards per play, after a Saturday loss at Duke.
"I'm thinking about not scoring after the first interception. I'm thinking about how we came up dry there at the end," Leipold said immediately following the 52-33 defeat in Durham, N.C.
However, when asked during his postgame press conference about the explosive offensive plays that helped the Jayhawks (1-3 overall, 0-1 Big 12) take a lead into the third quarter, Leipold offered it was a "decent day" for the offense.
"Statistically and big plays and things like that, I think there's things for our young men to gain confidence from holistically as an offensive unit. And I think we will," he said.
With the help of a 62-yard run to open the third quarter, true freshman Devin Neal finished with 107 rushing yards and a touchdown, becoming the first running back to lead the team in rushing this season. Junior quarterback Jason Bean, who led KU on the ground each of the previous three weeks, still contributed 54 yards on 15 runs, too. Plus, sophomore Torry Locklin gave the Jayhawks a third rushing threat, putting up 47 yards and a TD on his seven carries.
Document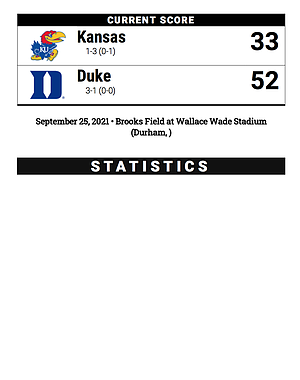 KU's 207 rushing yards were the most for the program since the Jayhawks had 259 at Texas in October of 2019. KU didn't reach 200 yards on the ground once during its 0-9 2020 season.
The variety of playmakers weren't limited to the run game, either, as Bean (19-for-32 passing, two TDs, two interceptions) connected with five different teammates en route to his 323 passing yards, the most by a KU QB since Carter Stanley passed for 328 at Iowa State in November of 2019.
Leipold said after the loss at Duke he didn't even realize redshirt freshman receiver Lawrence Arnold had so many catches — a career-best eight receptions for 68 yards.
Former Buffalo receiver Trevor Wilson led the Jayhawks with 122 receiving yards on five catches, one of which was so spectacular it landed him on ESPN SportCenter's Top 10, at No. 2. Leipold said Wilson — the sophomore provided chunk yardage grabs of 45, 19 and 42 yards — gave KU some "really outstanding" plays.
The final explosive play came in the fourth quarter, after Duke already had built an 18-point lead. Bean threw a strike downfield to Kwamie Lassiter II for a 61-yard TD. A super-senior receiver, Lassiter finished with four catches for 99 yards.
KU's ability to get so many players involved was one aspect of the game Leipold said pleased him as the offense continues to evolve, because he said the Jayhawks need to find more playmakers.
Bean said he was "extremely proud" of his teammates — running backs, receivers, tight ends and offensive linemen alike — for how they played.
"Especially the offensive line. I got a lot more time and the protection was great tonight compared to last week," Bean added, referencing a blowout loss to Baylor in which the offense totaled only 166 yards.
The 7.4 yards per play KU averaged at Duke, Bean said, showed growth, and the ability of the offensive players to come in each day at practice and improve.
"I think this is just another night we can continue to build off of and continue to get better," Bean said. "Obviously we have stuff that we need to get better on and that's what we have practice for."
Looking at the problematic areas of the Week 4 road loss, Leipold called Bean's two interceptions "disappointing" and noted KU's 3-for-14 showing on third downs was subpar.
Still, as the Jayhawks continue to get more skill players involved, Leipold said that will help the offense achieve the consistency he's looking for, as well as help the offense's depth, competition and morale.
"Now you start to gain confidence and look for other ways to get guys the ball and spread it around and do things," Leipold said. "Hopefully that will be some of the balance we're looking for."
The Jayhawks return to Big 12 play on Saturday, when they will take on Iowa State (2-2, 0-1) in Ames, Iowa (6 p.m. kickoff, FOX Sports 1).