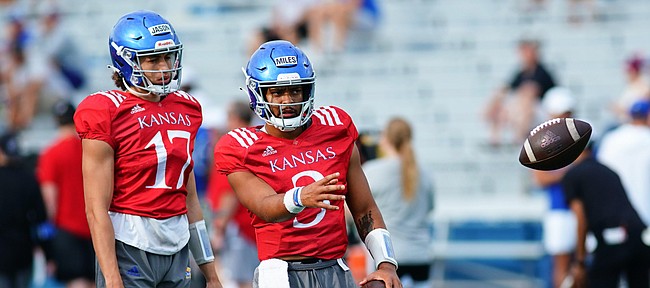 Two days out from the Kansas football team's season opener, offensive coordinator Andy Kotelnicki didn't want to spill the beans about the Jayhawks' starting quarterback.
Kotelnicki told reporters during a video call on Wednesday he thinks the coaching staff will wait and make a "gametime decision" before going with either senior Miles Kendrick, junior Jason Bean or sophomore Jalon Daniels as the starter on Friday versus South Dakota (7 p.m., ESPN+).
"Best analogy I can give you: When I was growing up we opened our presents on Christmas day," Kotelnicki said of the suspense surrounding the lengthy competition. "How does that sound?"
A longtime coordinator for KU head coach Lance Leipold, Kotelnicki said the prolonged QB race didn't give him any pause, even though the Jayhawks are about to kick off their season.
He said Kendrick, Bean and Daniels are all learning and growing through the preseason competition.
"I'll say this: any of the guys that are in the race, I feel really confident about them going out and executing the gameplan," Kotelnicki added.
Upon evaluating the group throughout the past month of practices, KU's O.C. thinks the competing QBs all bring "a really high level of athleticism for the position."
As Leipold said even before preseason camp began, Kotelnicki reiterated the necessity of making a thorough assessment with the QB position.
"You go into that process and you spend a lot of time trying to be really objective about your evaluations," Kotelnicki said. "You try to be objective about what the rest of the season's going to look like, be objective about how will that person make the other players on the offense better. And that's what's going into those decisions."
Daniels, who started six games for KU last year as a true freshman, led the Jayhawks in completions (76), attempts (152) and passing yards (718) in 2020. He completed 50% of his throws, was intercepted four times and got sacked 27 times behind an overmatched offensive line.
Kendrick led KU in 2020 with six passing touchdowns and a 60.8% completion percentage. He threw for 647 yards, went 73-for-120 through the air and got intercepted five times. Defenses blew by KU's O-line to get to Kendrick, too, sacking him on 17 occasions.
At North Texas this past year, Bean passed for 1,131 yards and 14 touchdowns in eight appearances. He completed 79 of his 145 throws, with five interceptions, and finished with a 54.5% completion percentage. Bean transferred in to KU early this summer.
Kotelnicki, who has been Leipold's O.C. the past eight seasons, noted he's been through QB competitions before, and that's another reason he's not concerned about the length of this preseason process for KU.
"If you make a hasty decision, right, that'll backfire on you as well," Kotelnicki said. "So I feel confident."