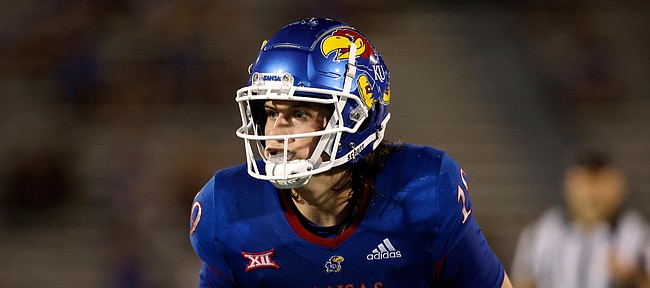 Now a junior and one of the more experienced players for the Kansas football defense, linebacker Gavin Potter started 10 games in a row before coming off the bench this past week against Texas Tech.
A 6-foot-2, 222-pound veteran from Broken Arrow, Okla., Potter responded with what head coach Lance Leipold said was one of his better games of the season.
Now with 18 career starts, including eight as a true freshman in 2019, Potter currently ranks second on the team in total tackles (42) this year, averaging 7.0 stops a game. Against the Red Raiders, Potter made six tackles as a reserve and came away with his first solo tackle for loss on the year.
Ahead of the Jayhawks' Saturday home date with No. 3 Oklahoma (11 a.m., ESPN), Potter took some time this week to discuss his progress, the play of the linebackers and more.
Q: What's it been like for you all in the linebackers group adjusting to a new scheme this year? Do you all feel like you're making progress as the season is going on?
A: "Yeah, I feel like every game I can see all my teammates, all my position group, just getting better. Because it's really a feel. Going from a 3-4 (defensive front) to a 4-3, it's just a different feel — the way you fit gaps and everything and how to fit them."
"You slowly start to see a shift in how we're all playing."
Q: For you individually, what type of progress do you feel like you've made just through the first six games?
A: "Yeah, I feel like I'm definitely making a lot of progress. You think you understand it, and then you really start doing it and you're like, 'Well, maybe I don't understand it that much.' And then the more you do it, the farther you come along."
Q: What are some of the things you've caught on to and feel like you're getting a better grasp for?
A: "Just the way that the gaps open up. They don't open up the same in a 3-4 as they would in a 4-3. So hitting them is just easier, really (now)."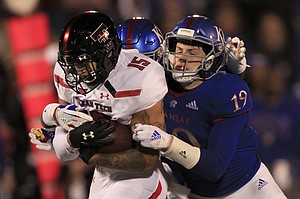 Q: You guys are at the midway point of the season, with six games left. What do you think you all need to do defensively to improve in the last half of the year?
A: "I think we just need to stick at it. Stick to hustling around and doing our thing. I just think it's going to come with time. You see the progress with everyone, looking around. You can feel the progress, too. People are really starting to get to know everything and get the experience in the new defense. So it's coming along."
Q: You were kind of thrown into the fire as an underclassman, playing linebacker in Big 12 games as a true freshman and then a sophomore. What were the challenges of that and how did going through it help you?
A: "I would probably just say the challenges were maturity — just maturity as in physicalness. Those dudes (offensive players in the Big 12) are way stronger. I can definitely tell now. I can feel when I play other teams the difference between when I was a freshman and now."
"It's just going along. It's definitely nice to get to do that and play early and stuff, because you get to learn a lot through that."
Q: Being from Oklahoma, how big of a game is this week's matchup with the Sooners for you? Did you grow up going to OU games or watching them on TV?
A: "Yeah, I used to watch them on TV. I like playing against Oklahoma. It's fun for me — OU and (Oklahoma State), playing against both of them. I like to do that, because I know they're my home state. So of course all my friends are watching the game, too. It's nice to play and go against everyone's team."