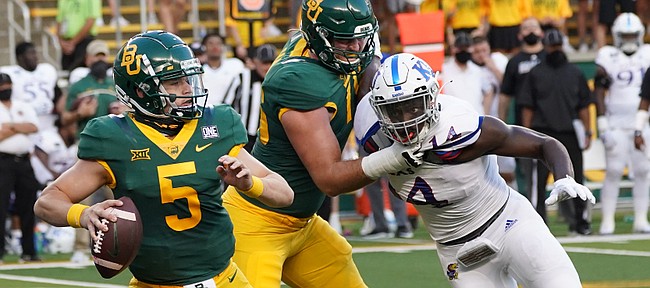 The top prospect in the Kansas football program's 2019 signing class, redshirt sophomore defensive end Steven Parker hasn't yet made an impact for the Jayhawks this fall. But KU defensive coordinator Brian Borland said he wants to get the athletic edge rusher more involved.
A 6-foot-4, 240-pound defensive lineman who was rated a four-star prospect by Rivals for his play at South Oak Cliff High (Texas), Parker has played exclusively as a reserve so far this season and has recorded three total tackles and 0.5 tackles for loss.
In 2020, playing for a different coaching staff, Parker started twice, played in all nine of KU's games and totaled 27 tackles and three tackles for loss.
Borland told reporters during a press conference Thursday that part of Parker's slow start this year in a new system is tied to the time he had to miss during the preseason. The Jayhawks already had practiced 10 times in August before Parker was cleared to participate, the result of what Borland described as a "Covid" situation.
That put Parker behind schedule and the D-end has been going through the process of trying to catch up since, Borland explained.
"I notice him when he plays. He's a guy with some size and some length and he plays fast and hard and has got some pop to his game," Borland said of Parker's potential for the KU defense.
Earlier during the bye week for the Jayhawks (1-4 overall, 0-2 Big 12) Borland said he was talking with the KU staff about how the coaches have to find a way to get Parker caught up, so he can get on the field more and have some quality playing time.
"He is one of the guys that he has some explosiveness to him and he's got a pretty high motor," Borland said.
"For him, he's got to learn, so when he goes out there there's the trust that he's going to do the right thing," KU's DC added. "And he certainly is making progress in that way."
Redshirt plans for Hatcher
One of the many defensive linemen to rotate in for KU in the opening weeks of the season, D-end Hayden Hatcher didn't suit up for the Jayhawks this past weekend at Iowa State. Borland said "as of now" the plan is to redshirt Hatcher, a 6-3, 233-pound senior.
Hatcher played in each of KU's three nonconference games, but didn't play against Baylor or ISU. He recorded six total tackles and recovered a fumble in his three appearances. Technically, Hatcher could still play in one more game this year and preserve his redshirt.
A former junior college linebacker at Iowa Western Community College, Hatcher played in six games for the Jayhawks in 2019, which was his first year in the program. He played in eight more in 2020.
Grunhard's timetable for return
KU's starting right guard in a Week 1 win over South Dakota, junior offensive lineman Colin Grunhard is eying a return to the lineup in the near future. But head coach Lance Leipold said Thursday he "wouldn't expect" Grunhard back for KU's next game, on Oct. 16 versus Texas Tech.
After getting slowed by an injury during the preseason, Grunhard tried playing through pain up through the season opener. Leipold said that didn't make the injury worse, but KU's staff decided Grunhard should take time off to address the injury and heal up.
Leipold said Grunhard, a former walk-on at Notre Dame who joined KU football this past January as a graduate transfer, is starting to be able to do more athletically of late.
Though the coach said he doesn't currently have a definitive date circled for Grunhard's return, Leipold thinks it could be in the weeks ahead.
"I hope by the end of the month at the latest, if not sooner," he added.
Redshirt freshman Michael Ford Jr., who transferred in from Buffalo during the summer, replaced Grunhard in the starting lineup and has handled the right guard spot in KU's four games since.