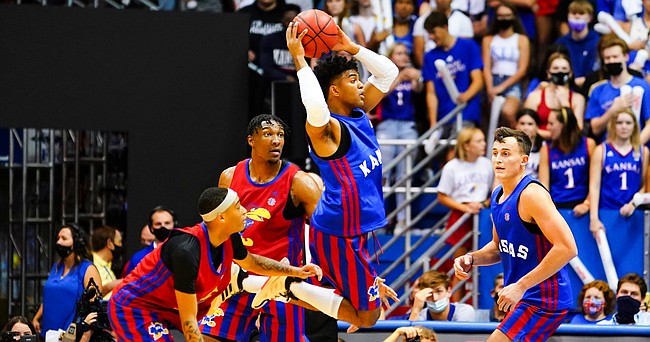 Last week's first look at the 2021-22 Kansas men's basketball team revealed a roster full of athletes who are not afraid to get out and go.
"We've got some guys who can run — from the guards to the bigs — and I think that was strategic," newcomer Jalen Coleman-Lands said after last week's scrimmage at Late Night in the Phog. "That'll be our game style for this upcoming year."
That was one of the main takeaways from the scrimmage, which almost always more closely resembles a pick-up game at the rec than what you'll see from the Jayhawks against Big 12 foes during the season.
But the upgraded roster and KU's increased team speed are a big reason the Jayhawks are likely to enter the upcoming season ranked in the top 3 in the country.
Kansas coach Bill Self talked about getting faster, stronger and more athletic in the aftermath of last season's blowout loss to USC in the second round of the NCAA Tournament. And his work on the recruiting trail in the months that followed made it a reality.

"You can't tell anything by tonight," Kansas coach Bill Self said after the recent scrimmage. "But, yeah, we're pretty athletic, fast. We play faster. We've got more guys that can push it. Even our veterans push it better than they did last year."
That was evident in the way senior Ochai Agbaji, junior Christian Braun and sophomore Jalen Wilson ran the floor and looked to push the pace whenever possible during the scrimmage. All three players had big roles on last season's team and each is entering the upcoming season with a sense of greater sense of ownership in what happens with this team.

Their desire to run and attack seems to be as much about keeping up with the newcomers and fitting in to KU's expected style as any grand plan for improvement in their individual games.
"All the little guards that we've got can get up and down," Agbaji said. "Defensively, picking up full court, they can do stuff like that — good stuff that we haven't seen in a couple years."
Returning point guard Dajuan Harris Jr., Drake transfer Joseph Yesufu and Arizona State transfer Remy Martin headline the list of "little guards" that Agbaji referenced. But freshman Bobby Pettiford is in the mix there, as well. All three figure to bring traits to this year's team that were not present a season ago.
"Having those type of guys on the team just raises the level for everyone else," Coleman-Lands said.
The biggest key to capitalizing on their jet-quick, tenacious skill sets is the ability to find ways to attack — on both ends — while staying within KU's system.
"Playing fast doesn't necessarily mean shooting fast," Self said. "But I think we'll be a team that can definitely have really good ball and body movement by the time we get to play in games, at least I'm hopeful for that. That wasn't ball tonight, but we've really done a good job of doing that the first couple of practices."