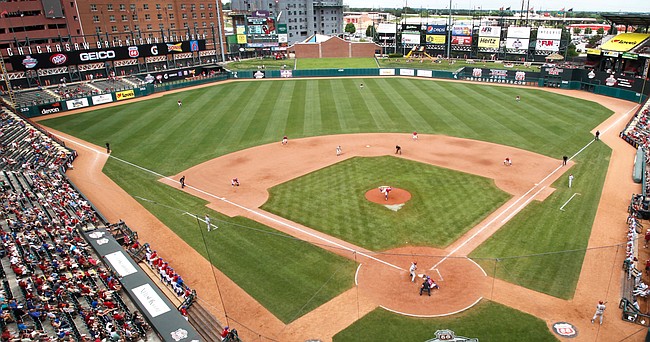 The Kansas baseball team will be playing for its postseason life on Tuesday in Oklahoma City, where it will face West Virginia in a play-in game in the Big 12 tournament.
First pitch at Chickasaw Bricktown Ballpark is slated for 6 p.m., on ESPN+ and the winner will earn a spot in the eight-team, double-elimination bracket.
The KU-WVU winner will be the No. 8 seed in this year's Big 12 tourney, with a date against top-seeded Texas slated for 4 p.m. Wednesday.
The Jayhawks (30-26 overall, 8-16 Big 12 play) are technically the No. 9 seed in the 9-team conference. WVU, which also finished 8-16 in conference play, earned the No. 8 seed by winning the head-to-head tiebreaker with KU.
The two teams met back in late March to open Big 12 play, with WVU (23-25 overall) winning 11-0 and 15-2 to take the three-game series in Morgantown, W.V. KU won Game 2 of that series, 9-2.
Both teams finished two games behind Kansas State (31-22, 10-14) for seventh place, which secured the Wildcats the final guaranteed spot in this week's tournament.
In other matchups on Wednesday, No. 3 Texas Tech will face No. 6 Baylor at 9 a.m., No. 2 TCU will face No. 7 Kansas State at 12:30 p.m. and No. 4 Oklahoma State will meet up with in-state rival and fifth-seeded Oklahoma at 7:30 p.m.
This season marks the 21st time in Big 12 history that Oklahoma City will host the Big 12 tournament. All of the preliminary matchups of the event will be featured on either Big 12 Now on ESPN+ or ESPNU, and the championship title game is set for a 5 p.m. first pitch on Sunday and will be televised on ESPN2.
The Jayhawks enter the postseason on the heels of a series loss to Texas Tech, in Lubbock, Texas, where they won Game 1 of the series over the nation's 5th-ranked team, 7-4. KU lost Game 2 13-4 and Game 3 5-0.
Prior to that, the Jayhawks had won four of their previous five contests, knocking off border rival Missouri 9-8 in a non-conference game, taking two of three from in-state rival Kansas State the weekend before and winning the final game of their series with Oklahoma State on May 9.
KU finished the season eighth in the conference in batting, with a .260 team average and dead last in power hitting numbers with 26 team home runs, 20 behind eighth-place West Virginia. KU's offense did, however, score more runs (297-249) and drive in more runs (262-231) than the Mountaineers this season.
Defensively, the Jayhawks finished seventh in the Big 12 in pitching with a team earned-run average of 5.38. That mark included allowing 287 earned runs, good for the second most in the conference.
KU ranked third in the conference in fielding percentage at .975, trailing only Texas (.980) and TCU (.978).