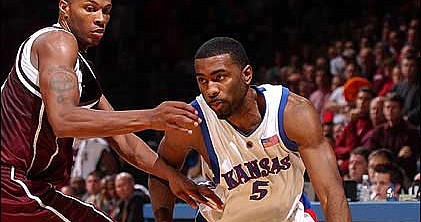 In case you missed it, one of the newest KU graduates with ties to the University of Kansas basketball program recently completed the work for his degree nearly 20 years after he first started taking classes.
Keith Langford, one of the all-time great scorers in Kansas basketball history, announced last week that he is now officially a KU graduate in the Class of 2021.
Langford, who is now 37 years old, shared his thoughts in a video message from Athens, Greece, that was posted on KU's Twitter account.
"After all this time, after all the things I've done in my career and the countries I've lived in, places I've been, people I've met, I am even more excited than I thought I would be having finally officially completed my schooling," Langford said in the video.
Langford was hoping to make it back to Lawrence to celebrate with the rest of the graduating class and make the walk down the Campanile Hill, but his professional playing career, which has taken him to several different countries, made him a lot of money and led to all kinds of accomplishments and honors, kept him from making the trip.
The distance did nothing to temper his excitement, though.
"I'm so ecstatic," Langford said. "Finally, after 15 years, I was able to complete my degree and I am a graduate of the Class of 2021."
Langford, who played at Kansas for four years from 2001-05, for both Roy Williams and Bill Self, said very few people knew when he left KU after his eligibility had expired that he had not graduated.
While his playing career and achievements kept him fulfilled on the basketball court, the former KU shooting guard said leaving Lawrence without his degree left him with "some level of shame."
In the years since, after all of those buckets and wins and honors, Langford said he "kept a level of commitment and a promise to myself that I was going to finish."
Now that he has, the Jayhawks' eighth all-time leading scorer, who left KU with 1,812 points, has another KU accomplishment to celebrate — a degree in Journalism/Strategic Communications.
"I just want to give a special, special thank you to the athletic department, Vincent McKamie, Dr. Scott Harris, Coach (Bill) Self and the entire basketball staff," Langford added in his video message. "They worked with me and still took care of the funding and all of the resources and everything I needed. All I had to do was show up. And they made it easy for me to put in the time and the work."
Langford joins current graduating Jayhawks Marcus Garrett, Chris Teahan, Mitch Lightfoot, David McCormack and Silvio De Sousa as the most recent of Self's players to celebrate the completion of their academic requirements at Kansas.